Gabriel Sidelamo From Mexico Achieves Royal President At XIFRA
November 5, 2021
By Team Business For Home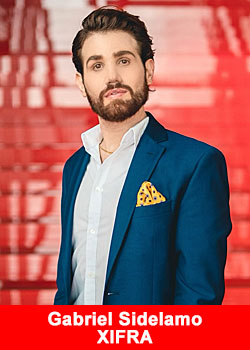 Every member of the extensive XIFRA family is important, and the company is showing its appreciation for all the work and dedication of its leaders. XIFRA is honouring Gabriel Sidelamo, from Mexico, as the holder of the highest rank at the company, which is Royal President.
Gabriel Sidelamo has been in the network marketing industry for over 11 years so far. He admits that from a very early age, he was already interested in setting up businesses and as a kid, used to sell toys, sweets and even make bracelets for sale.
Gabriel's mother had a particular influence on him as a child. As his first mentor, she was teaching him not only business approach and leadership mindset, but also values, such as honesty, discipline, gratitude and love.
Gabriel launched in the networking industry at the age of 18 with a firm goal to become a millionaire.
"I understood that the more people I could impact and help generate income, the more I would be rewarded, and that idea in my mind fascinated me.

Because you can become a millionaire running many businesses, being a professional in many industries, but in our industry, if you always act with your heart, you become a legend by impacting many lives."
Gabriel's career in network marketing was rising slowly, but steadily. He admits that there was a lot to learn and practice, and above all, it was necessary to keep an open mind.
"I have a quote I want to share with you, and it's "If you know what you are worth, go for what you deserve." I say it every day, and this made me not give up and realize one powerful thing.

People affiliate with you because they see in you a person that can help them to achieve their goals, that's when an intense fire was lit in me and I said I will work hand in hand and strengthen the mind and heart of all the people that I introduce my business to."
Gabriel confesses that, as it's often the case in network marketing, his team became his family, and this is where he discovered XIFRA and decided to join straight away:
"The truth is we all like to see our family happy and earning every day, and this is precisely what I saw in XIFRA: a great company full of values and financial stability to help my family generate rewards every day. The vision and the team we have formed are truly gigantic. 

I am infinitely grateful to life and to God for giving me everything to be able to grow and partner with Sergio, Jonathan, Andrea, Omar and my entire XIFRA family, because together we have managed to change the rules of the game and support thousands of families to be success stories."
Now, at the age of 29, Gabriel has already generated over 10 million dollars with XIFRA, which also means thousands of lives changed and a great pride for the company and the team.
"For me, being a network marketing professional is the best career in the world, because you build a story that drives and transcends over the years and makes you a success story for generations.

I decided to do this wonderful career in the leading company in technology, innovation and personal development that is XIFRA.
I like feeling like a family, helping people believe in love again, fight for their dreams, give meaning to their lives, feel proud of their names and know that together, we will succeed. It will always be an honour to work hand in hand with people who aspire to be heroes in their lives and in the lives of many people."
As for the future plans, Gabriel is very clear about his mission and even formulates it in a number: to impact 1 million hearts around the world.
About XIFRA
XIFRA is a disruptive and innovative technology company with a global presence and a decentralised smart ecosystem. Making use of the MLM business model, the company's main goal is to provide knowledge about the latest trends in cryptocurrencies and Blockchain technology with its proprietary algorithmic trading software, creating a decentralised financial protocol through the sharing economy.
XIFRA boasts an extensive ecosystem that also offers other business lines under the MLM model, such as wellness and beauty products, education, real estate solutions and hemp farming. For more information, please visit www.xifralifestyle.com