Medifast Q3 Revenue Up 52% To $413 million
November 6, 2021
By Team Business For Home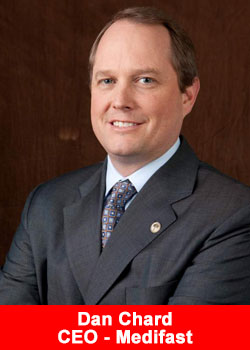 Medifast, Inc. (NYSE: MED), the global company behind one of the fastest-growing health and wellness communities, OPTAVIA®, today reported results for the third quarter ended September 30, 2021.
Third Quarter 2021 Highlights Compared to the Prior-Year Period
Revenue increased 52.3% to 

$413.4 million

44.9% growth in active earning OPTAVIA Coaches to a record level of 61,000
Revenue per active earning OPTAVIA Coach increased 7.0% to new high of 

$6,773

Net income increased 21.9% to 

$42.0 million

Earnings per diluted share ("EPS") of 

$3.56

, an increase of 22.3%
"We saw continued strong momentum during the third quarter, reflecting our ongoing success in offering a differentiated and personalized health and wellness program to a growing community of clients across the United States and Asia Pacific."
said Dan Chard, Chairman & Chief Executive Officer of Medifast.
"We have more active earning OPTAVIA Coaches than at any point in our history and they continue to support more clients than ever before.

Our business remains on track to take advantage of the growth opportunity that lies ahead, as we develop unique digital tools to support our Coach-driven program that guides OPTAVIA clients on their health and wellness journey.

Our clinically proven plans and scientifically designed products remain in high demand, and the powerful platform we have built puts us in a strong position for sustained long-term success."
About Medifast®:
Medifast (NYSE: MED) is the global company behind one of the fastest-growing health and wellness communities, OPTAVIA®, which offers scientifically developed products, clinically proven plans and the support of Coaches and a Community to help Clients achieve Lifelong Transformation, One Healthy Habit at a Time®.
Based on more than 40 years of experience, Medifast has redefined direct selling by combining the best aspects of the model. Its community of independent OPTAVIA Coaches has impacted 2 million lives and teaches Clients how to develop holistic healthy habits through the proprietary Habits of Health® Transformational System.
Medifast is traded on the New York Stock Exchange and ranked second on FORTUNE's 100 Fastest-Growing Companies list in 2020. The Company was also named to Forbes' 100 Most Trustworthy Companies in America list in 2017. For more information, visit www.MedifastInc.com or www.OPTAVIA.com and follow @Medifast on Twitter.