A Year Of Success For QNET – Receives 7 More Awards
December 3, 2021
By Team Business For Home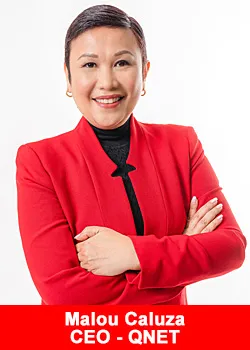 Direct selling company receives new accolades from Globee, VEGA, and MarCom awards
E-commerce based direct selling company QNET has received seven new awards in the last two months at the 2021 Globee Awards, VEGA Digital Awards, and MarCom Awards. The awards recognise the world's most innovative and creative businesses, with QNET joining the podium alongside global brands such as Nike, Accenture, Salesforce, Cisco, Mastercard, PepsiCo, and more.
The Globee, VEGA, and MarCom wins are the most recent honours in a long chain of success and recognition for QNET this year. In 2021, QNET has received 33 prizes to date from multiple global industry competitions, such as the TITAN Business Awards, NYX Awards, Stevie Awards, and more.
PEOPLE: OUTSTANDING LEADERSHIP
QNET's CEO, Ms Malou Caluza, was awarded a Gold Globee® Award as the Female CEO of the Year in the Consumer Products category at the 9th Annual CEO World Awards, a competition recognising the accomplishments and contributions of business professionals worldwide.
"It is an honour to be recognised by the 2021 CEO World Awards with a Gold Globee – I'm truly thankful to my QNET team for their unwavering passion and hard work that has, in turn, driven me to become a better leader by the day," Caluza commented. "Innovation and growth are part of the QNET DNA, and I'm so proud to lead an organisation that is dedicated to delivering world-class products, resources, and service to our employees, distributors, and customers around the globe."
PLATFORMS: DIGITAL RESOURCES AND A CLEAR BUSINESS MODEL
The VEGA Digital Awards is hosted by the International Awards Associate (IAA), an organisation aiming to bring the most creative in the digital media industry into the spotlight through a panel of jurors of multiple industry professionals and communications leaders from across the globe.
At the VEGA Digital Awards, QNET cinched two praises for:
The Mobile Apps & Sites category for QNET's mobile app. The app serves as an all-in-one platform containing direct selling industry resources, the latest product news and updates, and access to QNET's eStore, enabling distributors to run their business from the palm of their hand anytime, from anywhere.
The Video/Online Video category for QNET's video titled "The Difference Between Direct Selling and Pyramid Scheme". The video is available on QNET's official YouTube channel and is an informational guide on how one can differentiate between a legitimate direct selling business and illegal pyramid or ponzi schemes.
COMMUNICATIONS: OWNING THE DIGITAL SPACE
At the MarCom Awards, QNET set a winning streak for the second year in a row with a total of three trophies and an honourable mention in the following categories:
Commenting on the VEGA and MarCom awards, Caluza adds,
"The past twelve months saw QNET undergoing a digital transformation and expansion that truly personified our dedication to deliver engaging, timely, and informative content to our global community.

With the introduction of new social media channels in multiple languages, the success of QNET's virtual flagship convention, V-Convention Connect, and our award-winning Aspire magazine and mobile app, we have truly created a comprehensive digital ecosystem for our distributors and customers to access no matter their location.

I am incredibly proud of what we have accomplished and am confident in our longstanding commitment to empower others to take charge of their lives through what QNET has to offer."
Administered by the Association of Marketing and Communication Professionals (AMCP), the MarCom Awards' judging panel comprises communications, advertising, public relations and digital experts who set the standard for excellence. Last year, QNET won two Golds at the MarCom Awards in the Informational Video and Print Media categories.
About QNET
QNET is one of Asia's leading e-commerce based direct selling companies offering a wide range of health, wellness and lifestyle products that enable people to lead better lives. QNET's grass-roots business model fuelled by the power of e-commerce has helped empower millions of entrepreneurs in more than 100 countries worldwide.
QNET is headquartered in Hong Kong and has a presence in more than 25 countries around the world through subsidiaries, branch offices, agency partnerships, and franchisees.
QNET is a member of the Direct Selling Association in several countries, as well as the Hong Kong Health Food Association and the Health Supplements Industry Association of Singapore, among others.
QNET is also active in sports sponsorships around the world. Some of the more prominent partnerships include being the Direct Selling Partner of Manchester City Football Club and the African Club League Championships of CAF.
For more information, please visit QNET's website at www.qnet.net.