Brandon Martinez Lugo From Mexico Achieves Crown Diamond Rank At XIFRA
December 18, 2021
By Team Business For Home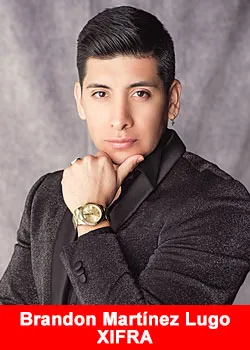 Brandon Martinez Lugo, from Mexico, is an independent associate of XIFRA with over 7 years of experience in the industry and who has recently reached an important rank of Crown Diamond.
Brandon was introduced into the network marketing business by his best friend. They started off together, but only 2 weeks later, the friend had to give us and left. Brandon was left alone adrift in the business and spent a whole year trying to get ahead, inventing formulas and strategies to grow and create a team, most failed and without results:
"I finally understood that if I wanted to grow fast I had to get a mentor, someone who had already walked the path and had the results I wanted to get. This was one of the first big steps I took, duplicating the people who have the results."
Brandon joined XIFRA in September 2020.
"I already had time in the world of investments and cryptocurrencies, however, I had never seen a project so transparent, so complete and with a long term vision that it was impossible not to join.

I visualized that XIFRA would mark a before and after in the entire industry, that it would be the most revolutionary and technological project of the decade. I simply could not miss the opportunity to be part of all this global impact.

I was also able to learn something fundamental for me, which is leadership.

When I saw the experience of my sponsor Omar Salazar, who "was married" to the project and willing to expand it, added to the great vision and conviction of a person like Mr. Jonathan Sifuentes, who showed me the business and where we were going, I understood that this had to be an infallible success."
Only after little more than one year within the XIFRA project, Brandon was able to earn over 3 million dollars and has fulfilled one of his dreams he had from his beginnings in the industry, which was to have a place in the Business for Home top earner 50 list.
"I am sure that XIFRA was born to enhance the lives of millions of people in all aspects and that with this vehicle, we will take the network marketing industry at the global level.

We will create a new category of entrepreneurs, where everyone will be proud to say that they "were born in the XIFRA family and graduated from the network marketing industry."
Brandon speaks about his plans for the future in somewhat drastic terms, which also reflect his passion and determination towards the XIFRA project and network marketing in general.
"My short-term goals are to have an "army of networkers", where we are a "bridge" to the world of decentralized finance. I want to bring people the tools so that time and money is no longer a problem in their lives.

I'm also working on my long-term dream, which is to be an inspiration for millions of people to improve their quality of life, just as I did."
About XIFRA
XIFRA is a disruptive and innovative technology company with a global presence and a decentralised smart ecosystem. Making use of the MLM business model, the company's main goal is to provide knowledge about the latest trends in cryptocurrencies and Blockchain technology with its proprietary algorithmic trading software, creating a decentralised financial protocol through the sharing economy.
XIFRA boasts an extensive ecosystem that also offers other business lines under the MLM model, such as wellness and beauty products, education, real estate solutions and hemp farming. For more information, please visit www.xifralifestyle.com