Daniel Onoja Achieves Crown Diamond Rank At OmegaPro
December 24, 2021
By Team Business For Home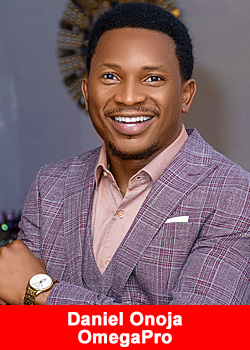 Daniel Onoja is capping off the 4 quarters of this year and achieving the highest rank in the company as Crown Diamond.
On his massive achievement, Daniel Onoja put forth:
''I have really learned a lot in this industry and as a student of knowledge I am still learning everyday because it's a continuous process – thanks to Omegapro's unique proven opportunity that enabled us to not just survive but changing the lives of more then 250.000 members"
Since august 2019, Daniel together with the Vice President of Sales Paulo Tuynman spearheaded the African Market that goes beyond any borders not only in Africa but also worldwide.
Daniel has come from a long way, in his previous career he had his own IT consulting firm with the entrepreneurial mindset he had the drive to seek a meaningful change to help others.
He established his first step in Network Marketing when a friend introduced him. Since then, Daniel has Reached greater heights in the industry as one of the most prominent and highly regarded leaders in Africa and Worldwide.
About OmegaPro
The mission of OmegaPro is to deliver a secure world class trading experience to all clients – both retail and institutional. We continually invest in new technologies and people, to provide our clients with a diverse range of trading products and exceptional trading outputs.
Moreover, we put a major emphasis on account security – we use the most advanced tools and encryption protocols and provide plentiful market liquidity to ensure your capital. Thanks to the vast market volume that OmegaPro handles and our strict risk policies, we can ensure that your account with us is secure, while connecting you to the fast paced global markets.
For more information please visit: www.omegapro.world.