Enhanzz Global Launches Multifunctional Nutrition Brand YU
December 3, 2021
By Team Business For Home
Under the motto "YU totally can!", Swiss company Enhanzz Global is launching its own nutrition line and thus ending the collaboration with its previous, external brand WOO.
With YU, the company is moving a little closer to its original philosophy of producing effective, modern, well-functioning products using the latest technology. However, YU has gone one step further by providing partners and customers with a complete community platform where results can be logged and valuable tips on health and general wellbeing can be obtained.
Right at the beginning, two multifunctional products will be available. A delicious Shake called Performanzz with 39 ingredients and a highly concentrated Collagen product called Beautii, which also includes Hyaluron and Astaxanthin. The first rollout of the product line is completed in the next 6-8 months.
CEO Sven Goebel comments:
Our new, more modern product line will be structured logically and should not cause confusion but clarity. As with Hanzz+Heidii, we didn't want a large product tray.

We have found that too many products raise too many questions and require too much knowledge. That costs momentum. That is why we have developed an efficient, multifunctional system with a view to the needs of our brand partners and customers, which gives the body exactly what it really needs and which is ultimately modular. 
The brand identity is exceptionally professional and contemporary, as one is already used to from the only three-year-old Swiss network company. The slogan "YUtotallyCAN" contains the underlying philosophy to which the new brand should do justice.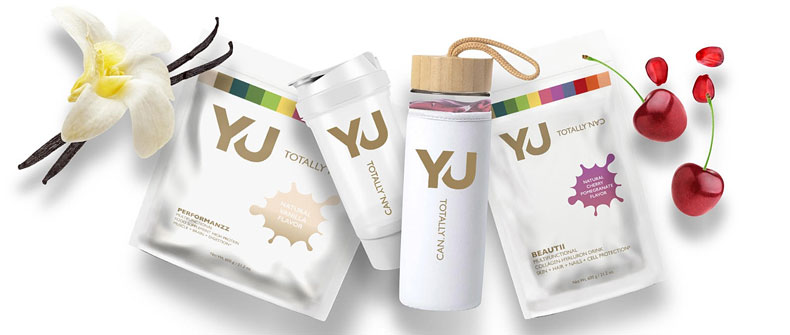 In the "House of Brands" ENHANZZ Global, people don't just think about products but also about an independent, professional brand presence. The aim is to set new standards in the direct sales industry and revolutionize the relevant market segment itself.
CEO Sven Goebel continues:
We assume that YUtotallyCAN, just like Hanzz+Heidii the beauty sector, will revolutionize its market segment in the nutrition sector. Intelligently composed formulas and multifunctional approaches are the future of dietary supplements.

We have combined this approach with a very appealing brand identity and are looking forward to the future YU community. Nobody has to get into better shape or better health here on their own. Our goal is to help people achieve their physical goals. And it's easy, efficient, and tasty.
About HANZZ+HEIDII
The exclusive HANZZ+HEIDII natural vegan skincare line for "HIM" and "HER", is a cutting edge, active symbiosis between nature and biotechnology, including its proprietary "Magic Swiss Code" formula, and its "Made Without" referring to its commitment that all products are non-animal tested and free of any harmful irritants and additives.
Currently, there are 9 products available for "HER" including a cleanser, serum and day/night cream; 4 for "HIM" also featuring a cleanser and serum  plus 1 unisex facial mask. For more information please visit www.hanzzandheidii.com,  www.enhanzz.com and www.woobyenhanzz.com