In 2021 Crowd1 Harnessed The Power Of Events
December 30, 2021
By Team Business For Home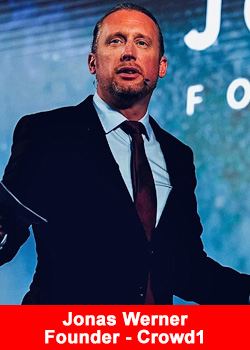 According to a Crowd1 press release:
As we rush towards the conclusion of another year, it's time to take stock. For Crowd1, the world's leading network marketing company, that includes looking back on a year of successful events.
Dubai was the place to be
With the Covid-19 pandemic showing promising signs of slowing, the time was ripe to resume in-person events. What better place to do so than the exciting centre of world business: Dubai, United Arab Emirates?
In May, top leaders and members the world over converged on the La Perle venue for two days of invaluable training, product information and motivation.
Top management were there to inspire, with Crowd1 founder Jonas Eric Werner leading the charge. This was followed by a fabulous gala dinner, recognising achievers and celebrating collective success. In true Crowd1 fashion, it was spectacular.
Celebrating the opening of the newest office
September found Crowd1 in a celebratory mood, with the opening of its office in Dubai (read more about that here). To inaugurate this spacious, light-filled space – which cemented the company as a serious player in the field – a select number of top leaders were invited to an exclusive multi-day training event.
As with all Crowd1 events, the focus was on growing their Members' and Affiliates' networks. How does the company enable this? Through valuable training, in-depth product news and updates, as well as motivational talks.
It therefore came as no surprise that this was on the roster for this particular event. Dubbed "The Power of the Crowd", it certainly lived up to its theme by harnessing the dynamism of the collective.
Something that certainly sets Crowd1 apart, is its enthusiastic embrace of recognition. What can be more motivating than seeing your peers climb the ranks? At a gala dinner in one of Dubai's most exclusive restaurants, such members were fêted – truly the Power of the Crowd.
An event to inspire and entertain
Dubai Live returned in November with another memorable event, held at the spectacular 5-star resort Atlantis, The Palm.
This time around, the theme of Right Here, Right Now showed how, at 40 million members strong, Crowd1 is a genuine force to be reckoned with. From all over the world, Members and Affiliates gathered to once again be inspired and entertained. A truly unforgettable two days were devoted to learning and celebrating.
Online for the up- and downlines
The pandemic has made it clear that the online world is here to stay. Crowd1 understands this intrinsically, and has therefore held many online Mega Events throughout 2021.
These exciting events where Members all over the world are able to log in and watch from wherever they are – be it their office, their bedroom, or in an assembled group at a formal watch party. With the final Mega Event of 2021 delivered, the path towards 2022 is clear: incredible success, stratospheric growth and, of course, many more fabulous events.
About Crowd1
Crowd1 is an established online social community and marketing company registered in Dubai, UAE, with a unique and empowering vision to unleash the opportunities provided by global marketing.
At Crowd1 we are proud to be democratizing access to the next revolution in the digital space, online crowd marketing. With an extensive and swiftly expanding community of passionate and highly motivated entrepreneurs, we aim to make Crowd1 the pre-eminent name in online marketing. For more information please visit www.crowd1.com