OmegaPro GM Juan Carlos Reynoso Honored By World Organization Of Leaders
December 27, 2021
By Team Business For Home
The Investiture Ceremony Doctor Honoris Causa was held at the Lebanese Center in Mexico City, where the World Organization of Leaders (WOL) recognised outstanding men and women with different virtues and merits worthy of being.
Such is the case of Juan Carlos Reynoso, a certified leadership coach and expert in finance and digital assets who has a history of more than 30 years and current General Manager of Latin America for OmegaPro.
His main objective is to encourage more and more people to achieve the desired financial freedom, educating and motivating them to have a better quality of life, all under the motto "I can help you to achieve what you need."
Mr. Reynoso received the reward along with recognition from the President of the organisation, Dr. HC Fued Jalil Jassan.
From the WOL International President, Dr. HC Fued Jalil Jassan, accompanied by his wife, his fellow doctors and the Doctoral Council in general, who, amid applause, congratulated Mr. Reynoso, recognising his extensive career and social work.
Numerous people expressed gratitude for changing their lives and always providing unconditional support. 
"OmegaPro is proud and honoured to have Mr. Juan Reynoso as a leader in our company globally. His hard work and dedication has been felt far beyond Latin America and he is a presence whose additions to OmegaPro will always be felt."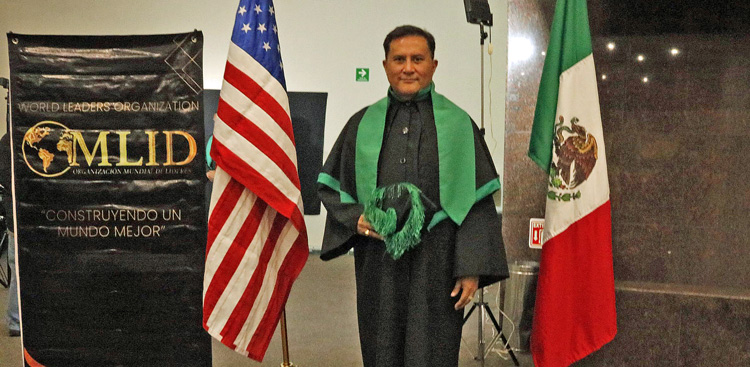 About OmegaPro
The mission of OmegaPro is to deliver a secure world class trading experience to all clients – both retail and institutional. We continually invest in new technologies and people, to provide our clients with a diverse range of trading products and exceptional trading outputs.
Moreover, we put a major emphasis on account security – we use the most advanced tools and encryption protocols and provide plentiful market liquidity to ensure your capital. Thanks to the vast market volume that OmegaPro handles and our strict risk policies, we can ensure that your account with us is secure, while connecting you to the fast paced global markets.
For more information please visit: www.omegapro.world.