Video – How To Find Leaders In Your MLM Business – By Anthony Napolitano
December 29, 2021
By Team Business For Home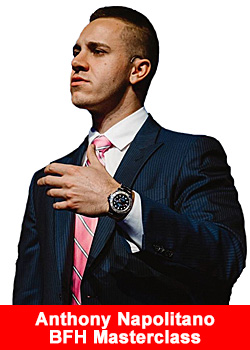 15,000 Network Marketing Professionals from around the world came together in 2021 for an immersive generic training experience, a Masterclass:
"How You Can Become A Rising Star"
35+ International Top Speakers, Coaches, Mentors and Rising Stars presented their trainings.
Anthony Napolitano from the USA is a multi million Top Earner in the Direct Selling Industry.
He is an Italian American entrepreneur, investor, & mentor. Napolitano is most known for being one of the youngest top earners in the network marketing industry. He has already accomplished more than most people accomplish in a lifetime.
Anthony helps people expand their lives financially, providing an effective suite of services that helps individuals Make, Manage, and Save more money on a daily basis.
He serves as a great example to his team on what can take place when someone truly commits. Napolitano travels the world to help others become financially fit.
He currently resides in Florida but is always on the move with his team. His mission is to reach as many people around the world that are in need of making extra income.
Anthony Napolitano presented, for a worldwide audience from 100+ countries, in a 20 minutes video:
" How To Find Leaders In Your Network Marketing Business"
Subtitles are available (use the cc button) in:
German

Dutch

French

Arabic

Danish

Spanish

Russian

Chinese

Portugese

Italian

Other languages on request (mail to our: Support Desk.)