Holton Buggs Inspires Thousands For The New Year
January 7, 2022
By Team Business For Home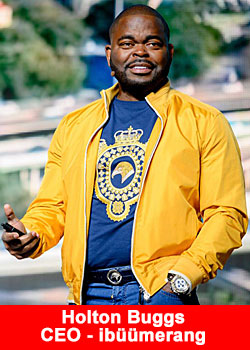 Kicking off the new year, ibüümerang CEO and founder, Mr. Holton Buggs, delivered the first Daily Inspiration Call of 2022 himself, lighting the sparks of motivation for over 4,700 listeners.
Chances and Choices
There are only 365 days in a year, and with limited days come limited choices. Mr. Buggs began his inspirational call with a call for those listening to take advantage of the choices that come with each break of dawn.
 "With a chance comes a choice, ibüümerang is choosing to take every chance to change the industry."
Holton Buggs stated.
ibüümerang in 2022
With ibüümerang being founded on the initial basis of the "power of the PRIB™,"  Mr. Buggs admitted that the company continues to grow beyond his original vision, in even bigger and better ways.
As new directions come to light within the company, there  is room for constant development and expansion.
Mr. Buggs concluded the call with exciting nods to the future of the company and the industry as a whole, with several hints teasing potential new projects in the works.
"The growth is already taking place," Mr. Buggs confidently concluded. 
As part of their established 2022 plans for growth, ibüümerang will be hosting the next life-changing event: Xccelerate Action in Houston, Texas on March 12 – 13, 2022. Live tickets are already over 60% SOLD OUT – live and virtual tickets are currently available at ibuumevents.com
About ibuumerang
Officially launched on September 1, 2019, ibüümerang was founded with the vision to be a customer-centric company focused on giving back without expecting anything in return. ibüümerang crystalized its mission with a strong focus on "Travel and Trade," with exclusive lifestyle products and services to improve the lives of Ambassadors and customers.
ibüümerang pioneered the concept of "you only earn when your customers save," and supports the BüüM Foundation in providing an abundant life for every child on the planet.
For more information on ibüümerang, its top-tier executive team, and its overarching philosophy, visit the company website at www.ibuumerang.com.
Recommended Distributors iBuumerang