Kiley Shafer Achieves Black Diamond At The Happy Co.
January 24, 2022
By Team Business For Home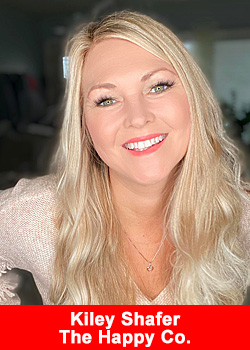 When 42-year-old Kiley Shafer joined The Happy Co., it was for a few reasons.
"My initial starting point was to pay back cash for Christmas,"
she says. Her second motivation: being there for her family.
"I have two sons that are the light of my life, and my youngest was going into his senior year. I needed to find a way to get myself back home again and live with more freedom."
She found all that and more in her daily cup of coffee. "It is my go-to every day when I first wake up," says Kiley of her Happy Coffee.
"Coffee that makes you feel good and look great was an easy decision for me."
The Indiana wife of Steve and mother to sons, Dylan, 22, and Mason, 19, says becoming a brand partner with The Happy Co. also has allowed her to grow as a wife, mom and friend. "The anxiety and sadness used to consume me on most days—just normal life stressors that can easily get in the way if you let them," she explains.
"But with my coffee each day, I found a new me. I am proud of who I am becoming."
Growing her network-marketing business and achieving Black Diamond status has enabled Kiley to achieve financial freedom, too. "We are now able to save and pay," she says.
"You have no idea how much peace that brings to a marriage and a home. To know we have money to fall back on when something major happens is such a relief for us both."
Another dream for the Shafers?
"Taking our boys to Mexico as a family vacation. This is a place where we loved to vacation to as a couple," says Kiley. "One of the best days was when we told them we were going, and this time they were coming with us. The summer of 2019 was the highlight of all summers. We are now planning another family tropical vacation summer 2022!"
The Shafers keep a family vision board with future goals, she adds, "but one we are really working on now is building a shop in our backyard for my husband to weld and one day retire, too. As for me, it's to keep changing as many lives as I can by sharing what The Happy Co. business and products have done for me. If I can do this, we all can do this.
"Remember the day you plant the seed is not the day you reap the harvest," Kiley adds. "It takes time and commitment to you. You can do this!"
ABOUT THE HAPPY CO.
The Happy Co., formerly Elepreneurs, launched in February 2021 with an established foundation of successful nootropic, functional beverage products that enhance mood, boost energy, enhance sleep, and make you look and feel like a younger person. The Happy Co. starts with products but does not end there. We are a lifestyle and a dose of happy. For more information about The Happy Co. go here.
Recommended Distributors The Happy Co.