Taylor Worre Joins The Happy Co. As Vice President Of Field Development
January 20, 2022
By Team Business For Home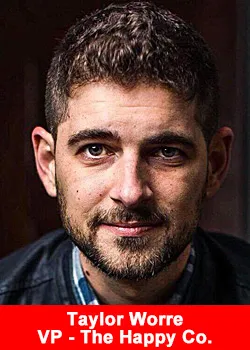 Network Marketing Veteran Brings Unrivaled Insight and Experience to the Field
Taylor Worre has spent his entire life surrounded by the network marketing profession.
In addition to growing up the son of the world-renowned Eric Worre (the #1 advocate, mentor and trainer of the network marketing profession worldwide), Taylor has worked hard over the years to trail-blaze his own path, to re-define what success can look like for the next generation of network marketing professionals, social connectors, and modern leaders in our space.
With his deep understanding of the network marketing world and his servant leader's heart, Taylor Worre will be an incredible asset to The Happy Co. as the new Vice President of Field Development.
Over the past 17 years, Worre has developed a distinguished career in the network marketing profession. Worre joined his first company as an independent distributor in 2005 and soon became its youngest Regional Director.
Following several years in the field, he was asked to join the corporate team and that's when he found his true passion and calling: helping other network marketing professionals to reach their highest potential.
Worre has served in many different leadership roles across the global network marketing industry, including Director of Events;
International Director of Communications;
Account Executive / Project Manager for industry-wide video production; and most recently,
Director of New Leader Experience for a multinational, publicly-traded network marketing company, working to create an environment for field leaders' success: after his first year with the company, sales had grown by over $20 million; after his second year, over $30 million.
Worre has also led numerous courses and strategies for team leaders to further develop their businesses.
As the new Vice President of Field Development for The Happy Co., Worre says that he plans to help the company and its leaders reach the next level:
"This company, its corporate leadership, these amazing products, and every single person who is proud to call The Happy Co. home – should know that I will serve tirelessly and with all that I have. We are going to do great things together!"
Garrett McGrath, CEO of The Happy Co. said:
"With his lifetime of insights, relationships, connections and experiences, Taylor Worre could choose to work and partner with any team – any company – within the network marketing industry.

Everyone at The Happy Co. couldn't be happier that he chose us and the worthy work we're all doing here together, that's making a life-changing difference for so many people around the world."   

Worre added: "You can't get much better than products – and a group of people – whose #1 focus is happiness!"
Worre has been honored to speak three times at the prestigious Association of Network Marketing Professionals annual event as well as the Business for Home Direct Selling European Congress event held in Amsterdam.
ABOUT THE HAPPY CO.
The Happy Co., formerly Elepreneurs, launched in February 2021 with an established foundation of successful nootropic, functional beverage products that enhance mood, boost energy, enhance sleep, and make you look and feel like a younger person. The Happy Co. starts with products but does not end there. We are a lifestyle and a dose of happy. For more information about The Happy Co. go here.