Zwagil Foundation Donates $2M in Products to the HeroGrown Foundation
January 25, 2022
By Nicole Dunkley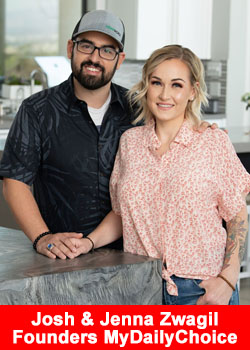 Zwagil Foundation and MyDailyChoice (MDC) are honored to announce they are partnering with the HeroGrown® Foundation to provide veterans and first responders Hempworx CBD Tinctures & Mantra Essential Oils. 
A total number of 50,000 bottles of CBD tinctures, 10,000 bottles of essential oils, and 1,500 sweatshirts were donated to support those in need of wellness and extra warmth.
Products are being shipped to Oklahoma City where HeroGrown® Foundation will distribute through their flagship Warrior Airdrop program to send products directly to those in need. 
As a veteran herself, Jenna Zwagil, Co-Founder of Zwagil Foundation & MDC, has made it her mission to help our heroes and their families.
She understands the importance of caring for our veterans and is grateful to donate products she personally uses and believes in.
"We are thankful we are in a position to help. I have personally experienced the benefits of CBD tinctures and essential oils, and I am excited to share.

Today, we donated $2 million dollars' worth of products and we hope we can continue to help & advocate the benefits of these amazing products." 
– said Jenna Zwagil, Co-Founder and CEO of MyDailyChoice 
About MyDailyChoice and Zwagil Foundation 
MyDailyChoice offers an amazing House of Brands that delivers health and wellness, travel, forex, and crypto education. All of their products, services, and goals serve as a mission to empower those to be their best self. 
The Zwagil Foundation was founded by Josh & Jenna Zwagil who decided to impact the world through a strategic partnership alliance. The vision for Zwagil Foundation is to create measurable impact around the world though supporting self-sustainability.
About HeroGrown® Foundation
HeroGrown® Foundation is the preeminent organization fighting for the right to choose cannabis as a safe alternative since 2011. HeroGrown® Foundation works to create awareness, education, and operations to get veterans free CBD items.
"We wake up each day with a single mission, help more people discover the healing potential of hemp and cannabis. A plant that saved the life of my father, along with countless other veterans and first responders." – Nick Martin, Co-Founder & Director of HeroGrown®
For more information about MyDailyChoice and The Zwagil Foundation click here
Recommended Distributors MyDailyChoice