30 Years In Network Marketing – Sven Goebel
February 15, 2022
By Team Business For Home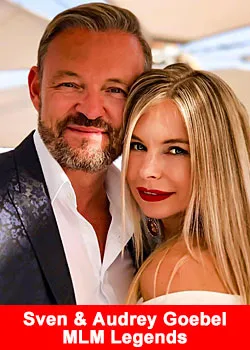 Network Marketing Legend Sven Goebel stated upon his Network Marketing career:
Today, Feb. 15, 2022, marks my 30th anniversary within this beautiful industry. Let me share a lil' recap:
It was Saturday, Feb. 15, 1992, at a regional event in Karlsruhe, Germany, when I signed up with NSA, today's Juice PLUS+ Company.
Inspired by the sole appearance of Jeff Roberti, today one of the most successful Network Marketers in history, and ever since a great friend, I was motivated to get started and instantly blunt enough wanting to change the entire world.
I was only 26 years old back then (what might explain the bluntness), working at university on my Ph.D. in Science. I was hungry like a wolf and determined to make things happen.
My sponsor was a wonderful older gentleman (R.I.P., Don Kinder) from the US who was willing to sign me up. Within the following 1.5 years, the foundation of a decade-long career was laid.
In 1993, following my Upline, I started with Quorum International as one of their first distributors in Germany. This company took the industry by storm and broke all records, achieving $250 Million. turnover in their 3rd year. Many of today's renowned global superstars were part of this remarkable story.
But, unfortunately, it did not last: due to internal conflicts, the company went out of business already in 1996, at first in the US and quite sometime later in 1998 in the EU.
This was a super-tough experience as we had built a successful team of 55,000 distributors, not expecting this dramatic turn. Today, however, I'm grateful for the experience as I can feel with many who have experienced a similar situation. It is more common than you think.
After that, I took a (much needed) first break as an active networker for approx. 5ish years and worked with 12(!) different company's in the NM space as a consultant, mostly on internet-related subjects, before 2001, I got back in the field and joined my very first nutrition company Unicity International.
It was a wonderful 12+ years with the upbringing of a global organisation of over 100,000 team members and $100 Million of accumulated turnover. First and foremost, the most significant achievement there was meeting – and later marrying – my wonderful wife, Audrey.
In 2013, I received a call from my long-year business friend Dan Holzmann, who offered me a position in the Executive Management of The Juice Plus Company. The four following years were a super-great and super-valuable experience "on the other side", and the cooperation became an unparalleled and remarkable success story with almost $500 Million in accumulated new sales in EU alone, due to incredibly wonderful and powerful teams that were breaking all records.
Working alongside my today's partner Sven Hennige, in 2017, together with our wives, we decided to pursue a long-year dream and start our own company from beautiful Switzerland called Enhanzz. We have created everything from scratch and grew year after year from within the DACH region – with a clear global strategy in mind.
Was it always easy? NOPE!
Were there times of turbulence? YES!
Did we face adversity? YES!
Was it well worth it? 3xYES!
Network Marketing has its own rules. And in the 80's and '90s, there weren't even rules or regulations. The industry grew organically from the wild-west into something more transparent and regulated. Yet it has a long way to go. We've just been through very tough years globally due to the pandemic, but Network Marketing had given lots of people new hope and a new perspective at times when the night was the darkest.
That's what I love about this business. It's anti-cyclic. It can create magic for those who do it right.But don't ever get fooled.

Just like in many other professions, you have to deal with a lot of crap at times, but when you are willing to bite the bullet, freedom, independence and friends all over the world are wonderful rewards.
A huge thank you goes to my mentors and trustful partners, all leaders who I felt privileged to have been working with across all companies, the well-chosen, integer public organs with who we trustfully and transparently worked over the decades. I'd love to mention you all personally by name, but I won't, so I do not forget anyone. If you know, you know.
I am eternally grateful for being featured in 3 different books, countless newspapers, online articles in many other languages on all continents, and many TV, radio, and online interviews. Speaking on stages all around the world, from 5 people to 50.000 people in attendance, has always meant a lot to me, and I will keep supporting the industry with the best values and intentions. Honestly, I can't wait to get back out there!
So thank you all. As always, we will not rest and hope we can keep doing our very best for another 30 years ? together with all of you. The old man will keep rolling!