Codebreakers (B.A.N.K.) Welcomes Donna Valdes As New Chief Operating Officer
February 8, 2022
By Team Business For Home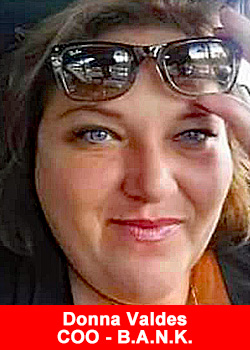 Codebreakers Technologies, LLC Chief Executive Officer, Cheri Tree, appointed Donna Valdes, as the new Chief Operating Officer.
The hire comes as the company prepares for continued global expansion. Valdes brings more than two decades of experience leading multimillion-dollar direct sales organizations and operations. Valdes has built a reputation as a dynamic leader with the ability to turn vision into reality.
As Chief Operating Officer, Valdes will support the company's strategic objectives and vision to create a global community interested in making stronger, more meaningful connections using the B.A.N.K. methodology and technology suite of products and services to enrich their lives professionally, personally, spiritually and emotionally.
Cheri Tree, Codebreaker Technologies' Chief Executive Officer says:
"We're excited to add Donna's more than 25 years of direct selling industry experience and passion for people to our Corporate team.

Her no-nonsense, authentic leadership style along with her growth expertise complements our initiatives."
Donna Valdes says:
"I am honored to be part of the Codebreaker family and excited to make an impact here.  I have always championed their B.A.N.K. methodology and Codebreaker technologies when I first learned about how powerful it was, and now I get to be part of it all.

I would have our teams and organizations go and crack their code. It was astonishing to see their technology work, and the insight it provided. I was already a fan before joining their team and community." 
About Codebreaker Technologies
Codebreaker Technologies is the world leader in Personality Coding Technology with clients and community in more than 100 countries. Our mission is to connect and empower humanity with revolutionary, personality-based tools, training, and technology.
This is designed to optimize and maximize results in five key areas: communication, business, relationships, emotional intelligence, and leadership. Codebreaker Technologies is powered by B.A.N.K., a scientifically validated methodology, designed to predict buying behavior and human engagement accurately in nanoseconds.
Visit my.bankcode.com to experience B.A.N.K. for yourself and take their free assessment. For more information about the company, please visit codebreakertech.com.