The Happy Co. Brand Partner Kelly Heffner Reaches Black Diamond Status
February 28, 2022
By Nicole Dunkley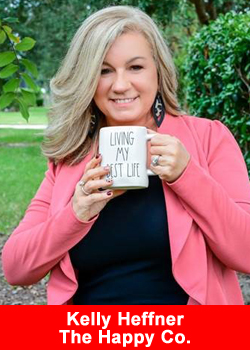 Forty-nine-year-old Kelly Heffner says she was very successful in another network marketing company, but it just wasn't a good fit.
"I wasn't happy, something was just missing, and I wanted to be a part of something much bigger that aligned more with my morals, values and integrity," says the Maryland resident.

It was very scary leaving an almost eight-year business behind that I worked so hard to build, but I followed my heart and could not believe that my paycheck in my fourth month here was more than double my biggest check ever with my former company."
says Kelly.
In addition to the financial payoff, Kelly's main goal with The Happy Co. is to take advantage of the time freedom. With a husband, four children and one grandson,
"I didn't want anyone else telling me when I could spend time with my family or if I could be there for my children when they needed me or not."
The time freedom was a real blessing when, in 2018, her father suffered a traumatic accident at work and her mother's health took a turn for the worse.
"When I think about where they would be and what would happen to them if I did not have this time freedom to care for them as much as I can, it scares me,"
she says. 
Kelly made the move to The Happy Co. as a brand partner in fall 2020. In her second month, she achieved Diamond rank and Black Diamond rank by four months.
"Life continuing to knock me and my family down had me in a terrible spot of just not feeling worthy of good things anymore,"
Kelly says.
"The love and support here at The Happy Co. has truly turned all of that around for me. I know that I am not just a number here and that I will always be supported when putting God and my family first—and that I am worthy,"
she adds. 
Kelly's advice to others looking to elevate their own happiness, finances and time freedom through The Happy Co.:
"We all start at the same place, have the same amazing products, the same amazing comp plan, and the same 24 hours in our day. It's what you do with them that will make the difference." 
ABOUT THE HAPPY CO.
The Happy Co., formerly Elepreneurs, launched in February 2021 with an established foundation of successful nootropic, functional beverage products that enhance mood, boost energy, enhance sleep, and make you look and feel like a younger person. The Happy Co. starts with products but does not end there. We are a lifestyle and a dose of happy. For more information about The Happy Co. go here. 
Recommended Distributors The Happy Co.