Alex Ramos From Mexico Achieves Crown Diamond Rank At XIFRA
March 7, 2022
By Team Business For Home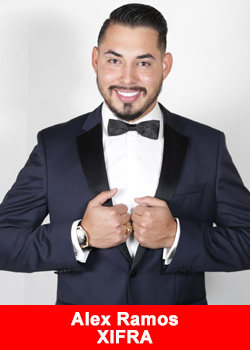 Just after its most recent event, "Diamonds around the world", XIFRA has harvested new Crown Diamonds: bright, young leaders who dedicated all their effort to taking the project at every time higher levels. One of those fresh achievers is Alex Ramos, from Mexico.
Alex Ramos is, without any doubt, a professional networker, as his recent Crown Diamond rank testifies, although his track record in the industry is only of little more than 3 years. Alex tells us that one of the main difficulties he experienced at the beginning of his career in network marketing was an important lack of trust of people he was trying to bring the opportunity to.
"Distrust it is, but I also found that it is crucial in network marketing to find the right focus for your process. What I mean is that many people who start in this industry, they are only focused on the pay check, on the money.

However, it is important to understand that in order to get to the desired pay check, you first must learn, you must focus on your skills and abilities.

This is what I did: I started learning from the best of the industry and from my mentors and practice, not thinking about the money.

In the end, you know what happens: as your team's pay checks rise, yours will rise, too, but first you must rise yourself."
Alex admits that when he first met Jonathan Sifuentes, the founder of XIFRA, and Omar Salazar, he was so impressed by them that he actually felt fear. Fear of not following them, of missing this opportunity.
"Jonathan and Omar believed in me more than any other person has done in my life. Jonathan literally told me this:

You have the look of wanting to make history. Omar gave me the action plan. It was so excited that I get goose bumps every time I remember that moment."
Speaking of the XIFRA company, Alex calls it "the third revolution in network marketing", as he explains the process that moves first from physical products to digital services to finally to the concept of unifying the whole idea of the industry and focusing on the people.
"I think this very "third" concept was the main challenge for me, for us, at the beginning because of the idea that people had in their minds about what network marketing is.

XIFRA is here to do the things differently, to change the rules of the game. It's about growing personally and professionally not only within just one company, but within the whole industry.

Being able to reach so many people and change their lives. It's about developing people. Alone, you can go fast, but in team, you'll go farther."
Alex talks about his plan short and long term, and it sounds quite interesting. This year, he says, he wants to reach the rank of Royal President in the XIFRA company and in the long term, he would like to become the President of Mexico.
"Yes, you heard me right, I'm talking about the presidential role for my country. I'm very much into politics, I understand it and I think that I can become an actual President.

I would be leading the whole population of Mexico, that's a big team! And what I see in the XIFRA company is that it helps me start on that path, to position myself, to position my people, to create the right mindset of abundance.
Funny enough, when I first started talking about me becoming the President of Mexico, people laughed at me, they didn't believe in me, thought I was crazy. But as was progressing and getting more and more results, their behaviour towards me changed, they actually started saying something like "When you're the President, don't forget to greet me sometimes." Results talk for themselves. 
My goal is to inspire people. If we started from the bottom and here is where we are today, everybody can do it. I firmly believe in this process, and this is what network marketing and XIFRA taught me."
About XIFRA
XIFRA is a disruptive and innovative technology company with a global presence and a decentralised smart ecosystem. Making use of the MLM business model, the company's main goal is to provide knowledge about the latest trends in cryptocurrencies and Blockchain technology with its proprietary algorithmic trading software, creating a decentralised financial protocol through the sharing economy.
XIFRA boasts an extensive ecosystem that also offers other business lines under the MLM model, such as wellness and beauty products, education, real estate solutions and hemp farming. For more information, please visit www.xifralifestyle.com
Recommended Distributors XIFRA