Bamidele Ajibare Achieves Black Diamond Rank at Omegapro
March 23, 2022
By Nicole Dunkley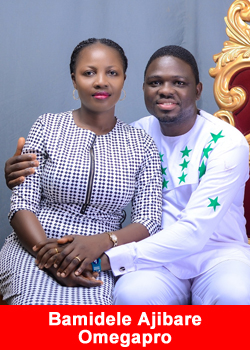 From Uber driver to now becoming a monthly six-figure earner, Big Sam and his wife Gift achieved black diamond with Omegapro in record breaking time.
''This has been the best decision of my life. Today I'm so grateful that I'm able to provide my family and friends a life far better than my dreams.

My mentors Vice President Paulo Tuynman and Crown Diamond Daniel Onoja have helped me to accomplish many things.

It allowed me to become a good leader, serve others, help my family and provide me the financial freedom that I never thought was possible. ''
Raised in a working class family, he grew up understanding the value of rising past financial adversities and restraints resulting to debts. With a close- knit relationship with his family, they faced all challenges of life openly and together.
"Omegapro is all about empowering people and equipping them to accomplish their goals irrespective of their background, upbringing and skill-sets.

It is a strong community that enables each one to dream big and turn dreams into reality'' 
He also extends appreciation to his incredible team, his family and above everyone the founders of Omegapro, Vice President Paulo Tuynman and the crown diamond who is the first pioneer in Africa Daniel Onoja, Big Sam is determined to stay true to their vision of helping thousands of families worldwide!
About OmegaPro
The mission of OmegaPro is to deliver a secure world class trading experience to all clients – both retail and institutional. We continually invest in new technologies and people, to provide our clients with a diverse range of trading products and exceptional trading outputs.
Moreover, we put a major emphasis on account security – we use the most advanced tools and encryption protocols and provide plentiful market liquidity to ensure your capital. Thanks to the vast market volume that OmegaPro handles and our strict risk policies, we can ensure that your account with us is secure, while connecting you to the fast paced global markets. For more information please visit: www.omegapro.world.