Christiane Marie-Catherine Goes From Loyal Customer To Successful QuiAri Promoter
March 11, 2022
By Nicole Dunkley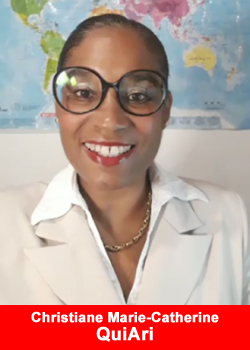 How can living in paradise get even better? QuiAri Promoter Christiane Marie-Catherine knows the secret. She currently lives on the beautiful tropical island of Guadeloupe, French West Indies, which is surrounded by the cool, turquoise water of the Caribbean Sea.
Tourism and Hospitality are both very popular career choices for locals. Although Christiane dabbled in the MLM Industry part-time, she held full-time jobs working long hours at a tourist hostel and as a Tour Operator. She eventually opened her own Tour Consulting business hoping that would help give her more time and money freedom. 
"I had no time for family and friends and was making just average pay. That's when I fell on some hard times. The hotels I had worked for both closed and my Consulting business was put on hold once the pandemic hit.

I started looking for something new. At the same time, two of my friends had introduced me to QuiAri products. I gained a lot of weight when I was pregnant with my twins. I wasn't considering joining for the opportunity. 

I just wanted my old body back – and it worked! QuiAri helped me lose 26 pounds. After experiencing incredible results, I just had to share these products with everyone,"
stated QuiAri Promoter, Christiane Marie-Catherine.
Losing 26+ pounds was only the beginning. Christiane regained her energy, started looking and feeling younger, and had more confidence – all through drinking a delicious chocolate or vanilla shake that tastes like ice cream and taking a powerful Energy tablet to keep her moving.
She immediately joined QuiAri as a full-time QuiAri Promoter. Now she's chasing big dreams and living a better lifestyle thanks to her success. 
"I have never really had a chance to enjoy success in previous Direct Sales companies. At QuiAri, it happened right away. I found their system to be much less complicated than other companies.

Plus, I love that it had everything I needed in my life – commissions paid in 5 minutes, breakthrough products, proprietary ingredients, and unlimited earning potential.

I had found my vehicle for success. Encourage people I know to try the product, fall in love with it, and share it with others. It's completely teachable and duplicatable,"
said Christiane Marie-Catherine.
Christiane loves helping others. In fact, she does missionary work in her spare time and regularly introduces QuiAri products and the opportunity to people that need an opportunity to help improve their health and financial situation worldwide.
"Very little training is needed because QuiAri has everything already prepared to help you get started:  the website, Try. Love. Share Launch Plan, brochures, opportunity presentations, videos, testimonials, and more. Best of all, it's entirely free. You can start working towards your dreams right away,"
said Christiane Marie-Catherine.
In the next several years, Christiane hopes to achieve the top rank at QuiAri – Purple Diamond – and wants to give back to her family, her church, and eco-tourism. 
"Whenever I get the opportunity, I'm thanking the Executive Leadership Team led by Founder and CEO, Bob Reina. This has been a dream come true for me.

I have lots of family throughout Africa and India that I'm in a position to help thanks to QuiAri's global reach – 200 countries worldwide.  Everything about this company is first class – and I know it's only going to get even better in the future,"
said Christiane Marie-Catherine.
 To learn more about QuiAri, their products, and the opportunity to become a Promoter, visit https://quiari.com/en, or follow them on social media @QuiAriOfficial.
About QuiAri
QuiAri is the #1 health and weight loss movement in the world today. Featuring exclusive, breakthrough products (QuiAri Shake and QuiAri Energy) featuring the world's new #1 superfruit, the Maqui berry, people everywhere are losing weight, boosting their energy levels, and improving their health. What started as an idea has now become a worldwide phenomenon, gaining a passionate following in over 200 countries. But that's not all! We boast an exciting opportunity to promote QuiAri products and earn commissions within 5 minutes after each sale through industry-first, state-of-the-art payment technology. Combining unrivaled products with the fastest payout, the fastest cycling binary, and one of the highest-paying compensation plans in the industry, there's no doubt QuiAri is helping people live healthier, happier lives. To learn more, please visit quiari.com.
Income Disclosure Statement
 Please note the QuiAri business opportunity offers unlimited income potential. However, QuiAri makes no guarantee of financial success. Success with QuiAri results only from successful sales efforts, which require hard work, diligence, skill, persistence, competence, and leadership. Your income will depend upon how well you exercise these qualities.
These statements have not been evaluated by the Food and Drug Administration. These products are not intended to diagnose, treat, cure, or prevent any disease.