'Time, Not Speed' Key to Developing Leaders Says Vasayo Black Diamond Rick Gutman
March 10, 2022
By Nicole Dunkley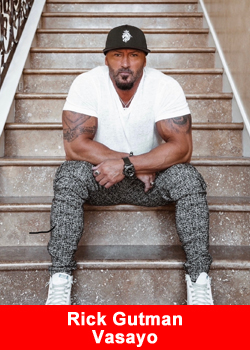 Working with Dallin A. Larsen at a former company had such a huge impact on Vasayo Black Diamond Rick Gutman that when Larsen launched Vasayo in 2017 alongside Founder & CEO Daniel S. Picou, Gutman immediately came out of retirement.
"Dallin was the best I ever worked with," Gutman says of Vasayo's Founder & Chairman.

"When the opportunity to work with him again presented itself by becoming one of Vasayo's founding Brand Partners, I decided to step back into the industry and develop people one more time." 
Two and a half years later Gutman achieved Black Diamond, one of the highest ranks you can attain as a Vasayo Brand Partner. Gutman says his journey to Black Diamond was strong, stable, and by design.
"My team deserves all the credit," Gutman says. "It takes time, not speed, to develop people that remain in leadership. I have a Black Diamond team with great leaders that were developed from scratch.

In other words, they had little-or-no experience in network marketing. I've enjoyed every chapter of their development along the way."
Gutman is proud of the people in his organization he's watched work hard to improve their physical health and financial lives with Vasayo. He says that watching people achieve success and even peace has been one of the most extraordinary fruits of his network marketing career.
As for his own physical condition and mental wellbeing, Gutman says Vasayo's Advanced Delivery Technology systems, which the company utilizes in its premium nutritional supplements, have improved his overall wellness—and that has made all the difference.
"Feeling well contributes to my outlook on almost everything else in my life," Gutman says. "Vasayo products keep me operating on a much higher level in my thoughts, my energy, and my intensity in life and business.

I know I can rely on these products to perform in the marketplace while my team and I sample them with our customers and prospects. I am so grateful to be here at Vasayo, and I am so grateful for my team."
About Vasayo
Vasayo is a direct sales company based in Pleasant Grove, Utah. For passionate people who seek abundance in life, we create products that promote wellness, enhance beauty, and support daily renewal.
Through our science, we maximize the delivery of nutrients to the human body using liposomal technology and other advanced delivery systems. And through our mission to bless 1 million lives, we empower our Brand Partners to change the world. For more information, visit vasayo.com. Follow Vasayo on Facebook or Instagram.