TRVL (The Real Vacation Lifestyle) Launches With Much Fanfare
March 1, 2022
By Team Business For Home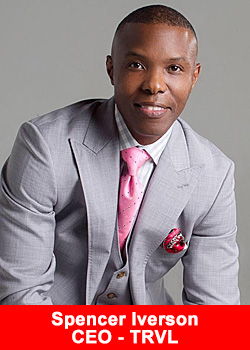 Long-time friends, business partners and mlm industry veterans, Spencer Iverson, Mark Sterling and Jonathan Green, launched their most recent project, The Real Vacation Lifestyle (TRVL), on January 1st, 2022 to much fanfare.
The trio were former owners and co-founders of a successful Forex trading education platform, but transitioned to the travel industry to capitalize on timing and travel's historically broad appeal.
TRVL Ventures International, LLC is headquartered in Atlanta, GA. It is an international community of leaders, dreamers and visionaries united by the common bonds of travel and financial rewards. TRVL is a travel membership club offering unique experiences at discounted prices.
The launch celebration included an all-expenses paid trip to the Royalton Chic resort in Cancun, Mexico, for a group of top leaders so that they could experience the "product" of travel first hand and also hear the vision of the company from it's Founders and vendors in a more personal and intimate setting.
The celebration culminated with a brand reveal mansion party which was attended by hundreds of guests from around the world.
The party highlighted the marketing and branding direction of the company, the merchandise line and TRVL's official name and product offerings.
Chief Executive Officer Spencer Iverson says,
"We wanted to get back to having fun in the industry of network marketing. I never had more fun than when I was promoting travel …. it never felt like I was selling – which was always a real turn-off for me.

Now, thanks to our strategic partnerships, we offer true discounted travel services worldwide and help people create special memories along the way.

It's also important to us that our leaders are always made to feel special. It seems that somewhere along the way, this concept has become more and more overlooked and forgotten."
TRVL has thousands of Lifestyle Ambassadors in more than 50 countries and growing daily. TRVL's unique suite of travel offerings include daily discounts that can be applied to normal, "everyday" experiences such as:
Restaurants
Retail shops
Car washes
Spa's and more
Access to international vacation rental properties
Private medi-jet service
VIP airport lounge access and more
Mark Sterling, Chief Operating Officer shares,
"Travel changed my life for the better. It allowed me to see new and exciting places and meet and maintain lifelong relationships. It is a gift that keeps giving.

One thing that I hear almost every day as to why people are not traveling is that it's too expensive or that they don't have anyone to go with. Well, TRVL is retiring those excuses for you.
You see, TRVL has been designed to connect incredible people with incredible places.
Whether you're looking for a beautiful getaway in a foreign land with cities of old culture, a domestic destination for the family or you simply want to slather on sunscreen and soak up some sun on the beaches of the world; TRVL has an option for you to pick or plan your luxury getaway for less."
The Founders rounded out their executive team by attracting the talents of mlm icons and top earners Denson Taylor and Tonya Mizelle-Joseph to serve as Co-Global Master Ambassadors.
"We hold ourselves to the highest standards to ensure that our TRVL Lifestyle Ambassadors have the support necessary to reach their maximum potential," says Chief Leadership Officer Jonathan Green.
About TRVL Ventures International, LLC
TRVL Ventures International, LLC (The Real Vacation Lifestyle) is a privately held company based in Atlanta, Georgia. TRVL sells travel and lifestyle community memberships with a variety of uniquely curated member benefits and experiences.
The company's goal is to help TRVL Lifestyle Ambassadors to live the life of their dreams by participating in company Bucket List Trips, experiencing new and exciting destinations and challenging themselves to grow personally, professionally and financially every day.
TRVL uses the direct sales model to go to market with active representatives and members worldwide. For more information, visit mytrvlclub.com.