XIFRA Event Attracts 300+ Diamond Top Distributors
March 3, 2022
By Team Business For Home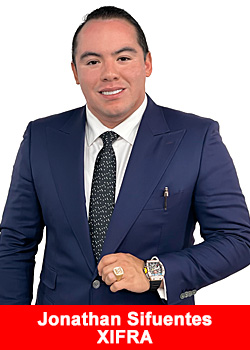 XIFRA gathered over 300 people from all over the world in Guadalajara, Mexico for a simple and intimate event where only Diamonds and above were invited to discuss and agree on the next big steps for the company.
The event featured various interventions from corporate and senior leaders at the highest levels of the company, offering information and training.
But one of the main highlights of the day was undoubtedly Jonathan Sifuentes, who dedicated a large part of his speech to expressing his deep gratitude for the effort of the leaders most involved in the company's growth.
Jonathan stated:
"I have never seen a community with such a high level as the XIFRA Nation. In 26 months in the market, we have changed many lives, and it is thanks to you that I was able to fulfil my dream. That dream is non-negotiable, I will not stop fighting for that dream." 
In his speech, he focused on leadership, on the people who have shown unconditional support for the project from the beginning, although he also spoke of data, the past and the future.
"With diamonds in every corner of the world, with great turnover and leadership at the highest level, we are already changing lives.

We are going to show a whole new standard of how to do network marketing: not just in this company, but in the whole market. And right now, the big companies are already watching us."
Sifuentes wanted to hear the opinions and testimonies of the Diamonds in the audience, in a small section of his speech that would be dedicated to the past, to the transformation.
It was the stories of the Diamonds themselves that served as an example of the impact of the XIFRA project on their lives and on those of the people who are part of their teams.
After their testimonies, it was Jonathan who thanked each and every one of them for their effort, their dedication, discipline and their high commitment to the company's vision and mission. And after the stories of past and present, Jonathan began to talk about the future.
"To talk about the future, we must first look at the past. The only way to create a future is to appreciate where we have been before, what we have achieved. The key is to protect a dream together. Our global movement has only just begun."
Included in that dream, which Jonathan mentions several times, is the goal of impacting at least 2 million people with his project. A project that, he insists, would not be possible if it were not for the excellent quality of his leadership.
"We will be the first to bring a new concept that will mark a before and after in the network marketing world and that will take the technology industry by storm. Knowledge makes nations powerful. We are a powerful nation."
Both during Sifuentes' speech and in other speeches at the event, it was clear that the company will place great importance in the next stages of its expansion in new technologies, which now go far beyond Blockchain and digital finance, although it will be firmly established in the crypto and staking world.
XIFRA is recently boosting the training of its leaders in different areas, both technological and leadership, and in this second category of training, exclusive materials from John Maxwell are available. As for the leadership that Sifuentes wants for his company, he made a statement of intent:
"We have never failed anyone and we will not do so. Effort is always recognised and will be recognised. We promote values. Values like loyalty. We want loyal leaders. I don't want leaders who only look for money, because when you only look for money and not values, that's when businesses fail."
After the event, Jonathan was happy and grateful to have exactly the kind of leadership he is looking for, right among the ranks of his Diamonds:
"Leaders with loyalty, integrity, discipline, who give their all for a dream, but above all, for others; leaders with values, who seek to help other people and continue to grow internally. They are leaders who are not afraid of a challenge and who hunger for knowledge."
XIFRA's future is focused on the global expansion movement, a movement whose main mission, according to the company itself, is to create tools that make technological and financial opportunities accessible to everyone. A movement of expansion that can only be possible, says Jonathan Sifuentes, thanks to a leadership as high level as the one found in XIFRA.
About XIFRA
XIFRA is a disruptive and innovative technology company with a global presence and a decentralised smart ecosystem. Making use of the MLM business model, the company's main goal is to provide knowledge about the latest trends in cryptocurrencies and Blockchain technology with its proprietary algorithmic trading software, creating a decentralised financial protocol through the sharing economy.
XIFRA boasts an extensive ecosystem that also offers other business lines under the MLM model, such as wellness and beauty products, education, real estate solutions and hemp farming. For more information, please visit www.xifralifestyle.com