Andreana Flores Named GM APLGO Philippines
April 18, 2022
By Team Business For Home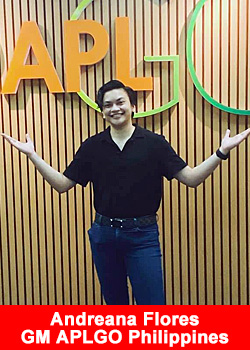 A Legal Adviser by profession, business development captured Andreana's interest and heart. With 5 years of experience in the Multilevel Marketing Industry, Andreana's passion is to help people achieve their dreams and aspirations.
"For me, success is perceived when you help people achieve financial freedom, have a comfortable way of living, and happiness and contentment in doing business."
I have been an International Market Coordinator responsible for business development and expansion and have launched companies in Asia, South Africa, and Europe. Thus, my experiences align well with the skillset, attitude, and work ethics of being a Country Manager.
"At the age of 20, Andreana single handedly helped companies legally operate and launch in different countries. Age is just a number. You can achieve your dreams and goals no matter how young or old you are."
My main principle is to have an excellent work system, exceptional customer service and strong foundation of relationship and culture that will instill love and amazing experience to all partners and customers.
"APL GO Philippines had its rough starting out, as any other start up business in the Philippines, MLM is a highly tough and competitive market.

CM Drei Flores has put in all the necessary hard work, dedication and passion to move APL GO products from a new to a well-respected, well known and trusted brand for a lot of patrons and associates.

She has and will always be a foundation of the company here. CM Drei is well known for her professionalism, honesty, good work ethics and great management style.

APL GO's unique products and CM Drei's great leadership qualities are a great combination in building APL GO as one of the best nutraceutical companies/products here in the Philippines." 
says Bryan Del A. Plazo, APL GO Philippines Director of Business Development and International Affairs
"Andreana saw and experienced the typical local networking industry culture and she envision APL GO Philippines to be one of the pioneers in professionalizing the Multilevel Marketing industry in Philippines through fostering culture of acceptance, humility and customer centric experience" 
says  Charles Stefen V. Alday, APL GO Philippines Director of Sales, Training and Marketing
About APLGO
APLGO was founded by Sergey Kulikov, a successful international network marketing leader who made his first $1,000,000 in the industry at 21 years of age and went on to run a very successful traditional business. He is the author of an online educational platform used within APLGO since 2014 that tracks and manages Associate efficiency.
APLGO's Corporate team is made up of professional and experienced managers who know and understand their markets. Our head office consists of six departments totalling sixteen divisions.
We work with the best leaders in the industry to ensure every aspect of the business is covered. We create a positive atmosphere for every employee and treat our customers with respect. For more information please visit us.aplgo.com
Recommended Distributors APLGO