Arieyl Founders Kristen & Travis Butler Excelled At Defying The Norm
April 1, 2022
By Team Business For Home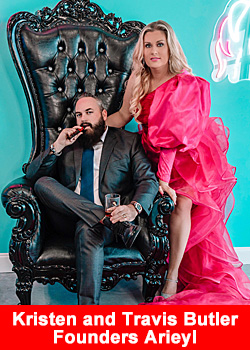 Kristen and Travis Butler have always excelled at defying the norm. High school sweethearts, married at 17 and parents by 18, they, on paper, are an unlikely success story.
They are the embodiment of "an entrepreneurial spirit" and truly have an inspirational "rag to riches" story. They first found success in the construction and landscaping industry but, when the housing bubble burst in 2008, it forced them to pivot and move to Orlando, Florida.
This move brought them to network marketing where they caught the vision of the often-misunderstood industry. The Butlers quickly rose through the ranks to become top leaders in their first company.
It wasn't by accident that they were in a small room in 2016, in Bradenton, FL during a training event when the words were spoken
"I believe by divine appointment someone in this room will use this company as a stepping stone to open their own network marketing company in the future and use the tools and experience they have learned here to do so."
Travis looked at Kristen and said "that is us!, we are going to start our own company one day".
The Butlers success catapulted them into the spotlight that eventually carried them to number nine in the Top Earners in Network Marketing Worldwide in 2019 according to Business For Home.
When the tidal wave of 2020 provided the opportunity to step out on their own, the Butlers once again rose to the occasion.
Launching a company in the middle of a global pandemic seemed impossible, but lessons from the shutdowns, separating families and friends, drove the decision to create something different, something where uniqueness was celebrated, and collaboration ruled over competition. In November 2020, Arieyl was born.
Based in Saint Cloud, Florida, Arieyl boasts over 60 cutting edge products encompassing cannabinoids and nootropics and nearly everything in between to help customers become their "Highest Self".
Bursting into the health, wellness and beauty scene with less than 250 Launch Team members and Founders, Arieyl enjoyed over a million dollars in sales its first week and has been steadily growing ever since because of the creation of a culture where leaders inspire others to rise through the ranks.
With over 7,000 Lions and Unicorns claiming their seat at the Arieyl Rockstar table only one year into this incredible adventure, Arieyl's rising star is certainly one to keep an eye on as the Butlers continue to make the impossible a reality.
About Arieyl
From Food Stamps & Foreclosure to Financially Freedom. Kristen and Travis Butler, top earners in the industry decided to create an opportunity for people just like them to live out their craziest dreams.
With our fast paced, busy lifestyles we give you the flexibility to grow a successful business at your fingertips.
Arieyl is more than just creating a source of income, it is about creating your best life! Getaway with our fun incentive trips and spoil yourself with prizes you'd probably never splurge on.
For more information please visit www.arieyl.com
Recommended Distributors Arieyl