Nicola Smith Jackson – Leading The Pink Millionaire Club
April 22, 2022
By Team Business For Home
By the age of 23, Nicola Jackson had already buried three children, and was overworking herself at a hair salon just to make ends meet.
Twenty-five years later, Jackson is a serial entrepreneur helping guide over 450,000 sales representatives in more than 30 countries on how to provide legitimate financial services to female entrepreneurs looking to reduce their debt and turn their lifestyle around. 
Trusting God and experiencing first-hand how He has worked in her life, Nicola has pushed past her many challenges including burying 3 children by age 23 to lead a multi-million dollar team of agents consisting of tens of thousands in the financial service industry.
Nicola is passionate about helping people to create a growth mindset, so they can develop their purpose and create a work/life balance.

She also helps them reach their full potential by empowering them with financial literacy, money management and fostering economic development.
Using time-tested principles, she has helped many to create a stronger financial independence, so they can have access to resources to reduce debt, save money, purchase homes, get better employment and entrepreneurial opportunities.
She is a frequent participant and guest on panels, workshops and radio programs and has created various resources and avenues to empower others including her popular online show, "Power Start Your Day".
She is the founder of the Pink Millionaire Club, She has created PINKPrint™, a wealth education system and the Money Mansion, a financial ascension program which helps individuals to connect the dots between the haves and the have nots.
Her accomplishments include:
Ordained Minister
Market Analyst Featured Yahoo Finance (First Trade), IHeartRadio, Morning Beats , Roku, NBC, CBS, WATC ATL
Instructor, Business School Accelerated®
Money & You® Graduate 2013 Malaysia
Built a 9-Figure Financial Services Business
First Multiple 7-Figure Earner and Top Female in Company
Earned the highest position of Pinnacle Senior Vice President in company history, 2019
Certified Coach, The John Maxwell Team
Certified Life Coach, Wainwright Global Institute of Professional Coaching
Certified Professional Coach through Strategic Learning Alliance
Platinum Partner, Tony Robbins
Pinnacle Circle, Jay Abraham
Counted among top 20 Female Network Marketers in the World
Inducted in the Million Dollar Hall of Fame as one of the Most Powerful Women in Network Marketing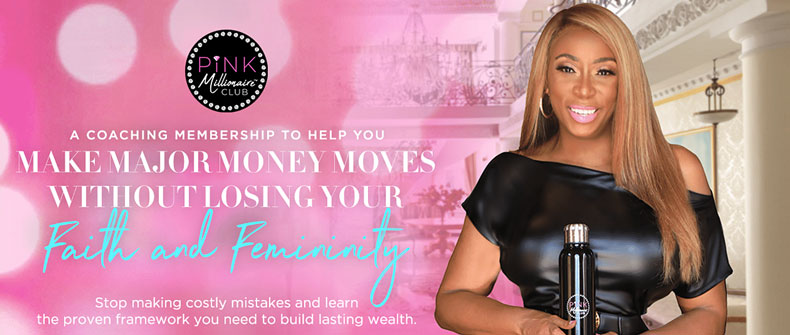 About The Pink Millionaire Club
The Pink Millionaire club is coaching membership to help you make more money moves without losing your faith and femininity.
There are many leaders and trainers who are teaching others how to become millionaires and quite frankly they themselves are not really millionaires and have no personal proof that the methods that they are teaching even work.
There are even some gurus who purposely leave important information out of their training; knowing these missing pieces are exactly what you really need to create your success. Crazy huh?
This is why Nicola Smith Jackson created the Pink Millionaire Club. It's the Revolution that will help you to get on the other side of money through heart and contribution and not through greed and negative competition. The world needs more power-house women with pure hearts and clean hands. For more information please visit www.pinkmillionaireclub.com