Arieyl Customer To Distributor Ratio Is 12 To 1
June 16, 2022
By Team Business For Home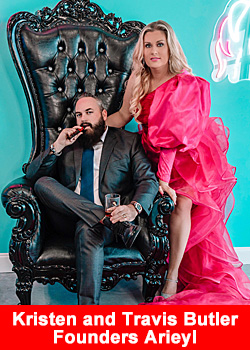 According to an Arieyl press release:
Early this year, Arieyl held its first ever "Rockstar Rising" convention at the Rosen Shingle Creek in Orlando.
Kristen and Travis, the CEOs, and well deserving top leaders took to the stage to recount their journeys to date, share their vast wisdom, and speak their future dreams into existence.
The unwavering belief in a unicorn company transcended the stage that day, Rockstars who traveled from all over the country returned home, poised for greatness.
A warehouse expansion physically tripled the size of their corporate building in St. Cloud, and brought Arieyl's famous "Boujie Bath" production in house, further taking quality control and customer satisfaction into their hands.
Fueled by belief, growth, knowledge, and an epic 420 BOGO sale, April blew all prior months sales out of the water, boasting a 40% increase in revenue over their previous highest month.
There was a flood of customer acquisitions, as people jumped on board their healing journey, and the customer to rockstar ratio continues to flourish above industry standards, at a most impressive 12 to 1.
Put into perspective, most companies only dream of hitting the industry "norm" of 5 to 1 – Arieyl's growth statistics are proof there's more belief here than this industry has seen before.
An unbeatable VIP program with no forced auto ships, no minimums, and satisfaction guarantee empowers Arieyl to continue to soar to the top. Despite their happiness guarantee, there is a less than 1% return rate; it appears that both customers and rockstars are happy with their purchases.
Arieyl's momentum is fueled by highly consumable, top of the line products that continue to sweep the industry on viral platforms. Their rocket ship is blazing a course that commands attention from its onlookers, enticing the brave entrepreneurs to jump aboard.
Arieyl will continue to innovate, inspire, rejuvenate and challenge the way people see the network marketing industry – the best is yet to come.
About Arieyl
From Food Stamps & Foreclosure to Financially Freedom. Kristen and Travis Butler, top earners in the industry decided to create an opportunity for people just like them to live out their craziest dreams.
With our fast paced, busy lifestyles we give you the flexibility to grow a successful business at your fingertips.
Arieyl is more than just creating a source of income, it is about creating your best life! Getaway with our fun incentive trips and spoil yourself with prizes you'd probably never splurge on.
For more information please visit www.arieyl.com
Recommended Distributors Arieyl