Julie Graham Achieves Black Diamond Rank At The Happy Co.
July 21, 2022
By Team Business For Home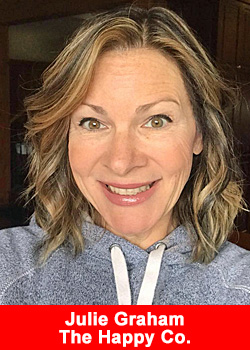 Julie Graham knows all about owning a business. In 2001, she and her husband, Cody, founded an oil and gas tool manufacturing company, which they sold in 2017.
As an American citizen residing in Canada, the 51-year-old mother of three remains financial administrator of the company she founded, with Cody serving as chief innovation officer.
Still, Julie says, she craved the challenge of running a business again without the full risk of building a startup.
"I needed an outlet to fulfill my passion of being a creator and allowing my creativity to run wild," she adds.
Going part time with The Happy Co. was a good fit for her.
"I wanted something to brand my way and push myself to grow and develop a business as much as myself."
Julie had a friendship with a Happy Co. brand partner and watched her story unfold with interest. So in 2017, when The Happy Co. officially began shipping to Canada, Julie placed her first order and joined as a brand partner a month or so later.
"I was blown away by how energized and happy I felt. The products brought me out of social anxiety, slight depression and helped me lose weight. I found happiness, and that helped guide me down a path of gratitude and so much more."
Since becoming a brand partner, Julie said she's also found her leadership voice.
"I've had to grow and push out of my comfort zone and continue to challenge myself to show up as a leader. The Happy Co. taught me how to be a leader and an educator."
Her leadership skills are paying off as she hits Black Diamond rank within the company. She and Cody celebrated their 20th wedding anniversary with a first-class trip to Italy, and
"I am now working toward building my business to the level we can retire in the next two years."
Aboit The Happy Co.
The Happy Co., formerly Elepreneurs, launched in February 2021 with an established foundation of successful nootropic, functional beverage products that enhance mood, boost energy, enhance sleep, and make you look and feel like a younger person. The Happy Co. starts with products but does not end there. We are a lifestyle and a dose of happy. For more information about The Happy Co. go here.
Recommended Distributors The Happy Co.