Kerry Kotas Achieves Black Diamond Rank At The Happy Co.
August 24, 2022
By Team Business For Home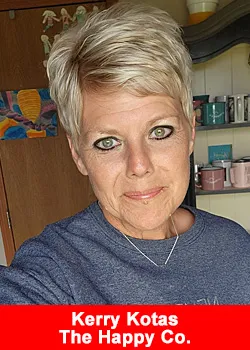 Kerry Kotas Shares Her Faith and Her Success with The Happy Co.
"Strong faith in the good Lord, hard work, connection and consistency every single day."
Those, says Kerry Kotas, are the keys to building a successful business. It's also what allowed the 47-year-old western Nebraska wife and mom to leave her job as a medical aide and work from home full time.
Kerry Kotas became a brand partner with The Happy Co. to help her family and to help others.
"With God's help, if I can help as many people as I can, my life and my family's life will be changed as well."
Kerry and husband, Mike, have six children between the two of them. With family so important to the couple, Kerry wanted to build a business that would keep them financially sound with savings. And, she adds, "being my own boss is a big plus."
As she's reached Black Diamond rank with The Happy Co., Kerry says she tries to customize plans and schedules for each individual customer. "Everyone is different," she explains.
"I always try to follow up and build a strong, trusting relationship with each customer and distributor."
Kerry works hard to help her team win, and The Happy Co.'s compensation plan and the products are a big part of the equation. "The company is also very family-oriented," she adds. "That's important to us.
"My goals are to continue changing lives with these products and this business every single day, and touch others with God's word along the way."
Rooted in her strong faith, Kerry offers advice to others just starting out: "Pray for guidance, and focus on the amount of lives you change, not the dollar," she says.
"The income will follow. If you focus on changing thousands of lives with these products and your business, your life will change as well, and you will reap what you sow."
About The Happy Co.
The Happy Co., formerly Elepreneurs, launched in February 2021 with an established foundation of successful nootropic, functional beverage products that enhance mood, boost energy, enhance sleep, and make you look and feel like a younger person. 1
The Happy Co. starts with products but does not end there. We are a lifestyle and a dose of happy. For more information about The Happy Co. go here.
Recommended Distributors The Happy Co.