Miguel Posada Achieves Double Diamond Rank At Zeta
December 15, 2022
By Team Business For Home International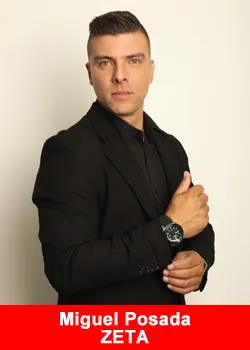 Miguel Posada is positioned as the new Double Diamond in ZETA with more than 70,000 USD in commissions per month.
The great businessman from the city of Medellín closes the history 1.0 cycle with a new rank, which has allowed him to position himself as the leader of future generations.
During the last months we have seen how he has worked intensely to achieve a new achievement, he never stopped believing in his team and thanks to his persistence and constant struggle, this great champion becomes a benchmark for the network industry. marketing.
"This is not because of the new rank, it is to help many people fulfill their dreams and achieve the life they so deserve, this Double Diamond for me represents many success stories,"
says Miguel.
6 months ago when the 4.0 revolution began, Miguel Posada in just two weeks positioned himself as the first ZETA DIAMOND, with commissions of more than 40,000 USD, just in his first month he had already managed to get people in his team to create their own success story, to see the personal and professional growth they had achieved, they made the decision to start a new mindset and begin their journey as the company's future Double Diamond.
His mentoring and leadership talks have been a complete success. In September of this year, he began his tour of Europe with his partner Julieta Rodríguez, who is a ZETA Diamond and the person who has been with him in the largest achievements of him.
This great Colombian businessman became known in ITALY thanks to Joseph Pesaresi, the first ZETA Diamond in Europe, together they opened the doors to new partners and gave the preamble to the globalization of the company.
"He is one of the best people I have ever met, someone helpful and tireless, I am proud of his result and grateful for being the support of him and his partner",
mentions Joseph Pesaresi Diamante from Zeta Group.
There have been more than 180 success stories that support this new Double Diamond, his goals are clear, he will continue to support his team to continue growing together and lead ZETA to be the number one company worldwide.
We recognize the great progress that Miguel Posada has made in the company and the new purpose of this leader is not to reach a Triple Diamond but to position himself as the new Black Diamond, under endless success stories that he managed to build.
"We know that this is an achievement for ZETA, Miguel is one of my fundamental pillars and together with him and the more than 20,000 members we create the right environment for the right people,"
mentions, Allan Badilla co-founder and ZETA Black Diamond.
Just when Posada reached the new rank, he received unconditional support on his social networks, more than 1,000 messages on his Instagram account of just thanks and congratulations, people feel proud of what they have achieved and achieved thanks to their leader and mentor who now it is the new ZETA Double Diamond.
"If you strive for the result of others, God will give you your result"
We know the great value that Miguel has brought to the network marketing industry, he is an example to follow for those independent entrepreneurs who are looking for new alternatives to get ahead, we are before a mentor, motivator and leader of the industry and of ZETA GROUP that day-by-day day is leaving a clear legacy for the future of this business.
"I can be Diamond, Double Diamond, Triple or Black Diamond but if I'm not impacting people's lives, I'm not really doing anything, it's not the rank it's the growth of my team and the love for their dreams"
Miguel Posada – Top International Leader