MLM Professional Skylar Lambert Joins Bella Grace
December 8, 2022
By Team Business For Home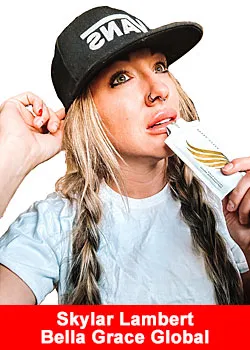 Network marketing has been changing lives for decades, and in the last decade, Skylar Lambert has taken the ability to earn a significant income and used it to create massive change in her own life, and the lives of so many others. She recently chose to partner with Bella Grace Global.
Skylar started her journey in the network marketing in 2012, at the age of 23. She and her husband Cory were young struggling parents.
Skylar had just experienced her second high risk pregnancy and during that time was unable to work. She was a full time college student and working 2 jobs to try to make ends meet.
Because she was on bed rest during those trying 9 months, they were facing foreclosure notices 6 months into their first mortgage. She used that experience to drive her to a top ranked leadership position.
Skylar continued her career in the health and wellness industry, getting behind some incredible products but the power driving her passion was her ability to mentor others on the path to financial freedom. In 2020 after her 8 year experience, she created a blog to be the voice for the field and to create change in the culture of network marketing as a whole.
"I think we all know, we can all do better, be better humans when it comes to co-existing on this earth. That should be our focus in this business mode.

We are all in different companies and using different vehicles. But the end goal should be the same. We are BETTER TOGETHER."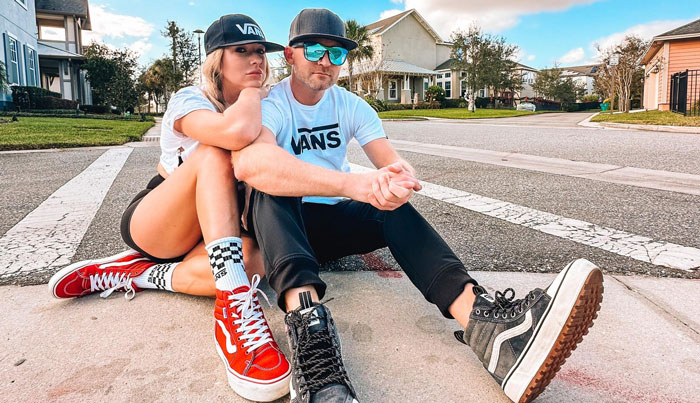 Creating change in this industry should be a priority for everyone:
Leaving people better than we found them
Knowing we have the ability to control the temperature of this industry for the masses
Removing the expectation of everyone you meet joining you on your journey but knowing they will add value to your life in other ways.
Creating genuine friendships must become the ultimate priority.
"Making people feel valued for who they are no matter if they're just getting started in the Removing the expectation of anyone you meet ever joining you on your journey but knowing they will add value to your life in other ways. or a # 1 income earner has to be the goal! One person can try to make a difference but it's really going to take the masses to do it!"
"When I stumbled upon Bella Grace, I was immediately overwhelmed with an unexplainable sense of hope!

I have dealt with ongoing inflammation most of my adult life and especially after my hysterectomy at the age if 31. Aging and reducing inflammation in my body has now become a major priority for me.

When I saw that beautiful angel on the package, it gave me hope for my health, and for my career in the social-selling space. It was a beautiful sign I couldn't look away from!
The moment I spoke with Brian Bilbro, I impulsively wanted to jump on my computer and go all in.
Knowing they worked on perfecting this business model for a year and a half before they ever shipped a product, before they ever had a customer or ambassador, showed me they really took their time setting their future field up for success! I was ready to go all in.
His words next took me by surprise. He encouraged me to take my time making my decision and gave me the right resources to dig into to ensure this company would not only be the right fit for me but for my parents and my future team.
After that, I met his beautiful wife and CEO, Meredith, and our President Kristina and instantly felt emotionally bonded to each of them. I knew in those moments although we had just met, that we had been on the same mission for a long time.

My upline and sponsors; Dr. Mark Luckie, and John and Sarah Barbour have been incredibly supportive of not just me, but take an "all hands on deck" approach to helping my entire team, in the trenches, late nights and early mornings.
Even through the emotions that I've experienced behind the scenes. I truly feel valued, seen, heard and loved, not for just what I bring to the table, but for my heart, and the heart of this team!"
About Bella Grace Global
Bella Grace Global is a Florida-based USA health and wellness company very different from all the rest. Brian Bilbro, co-founder and COO, wanted to go the social media influencer route for marketing his company.
Bella Grace's influencer model was designed to attract professional influencers—individuals who are already being paid by other brands—but they offer training and tools for individuals who want to grow that social media following and become professional influencers. For more information please visit www.bellagraceglobal.com.