Arieyl's Second Convention Will Be Held In Florida USA
January 28, 2023
By Team Business For Home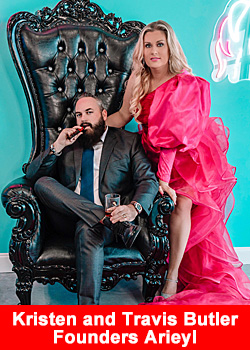 As Arieyl's Corporate office hits full throttle in preparation for their second annual convention, Rockstars all over the United States are coming together, leaving the freezing temps, and heading to the Rosen Shingle Creek in sunny Orlando, Florida on February 10th for the 3 day event.
With 2022 being a year of planting fresh seeds and pruning some weeds, Arieyl knows 2023 will be bringing in an incredible harvest of all their hard work with explosive growth and international expansion as Arieyl Amplified bursts onto the scene.
Capitalizing on the incredible momentum created by Arieyl's first annual convention in 2022 that added 5 innovative products, brought their famous "Boujee Bath" manufacturing in-house and a warehouse expansion that nearly tripled the startup's initial location to accommodate the needs of an ever-expanding field.
Alongside killer trainings and real stories of life change, Arieyl's Rockstars will experience a party like no other while being loved on by their hosts, Co-CEOs Kristen and Travis Butler.
Expanding Arieyl's incredible line of cutting-edge products, launching fresh choices for each path to success, Rockstars will be blown away by the addition of even more options they can offer loyal VIPs as well as entice new customers to assist them maintaining an over ten to one customer to Rockstar ratio.
Co-CEO Travis Butler stated:
"Most companies pray for a ratio of five to one but are lucky to maintain a two to one ratio. I never dreamed it could not only be accomplished but also done in less than 2 years."
The weekend will wrap up with a warehouse tour where invitees get a unique look behind the scenes while connecting with friends, old and new, showcasing Arieyl's collaborative, family style, inclusive culture that stands out and truly makes them a company to watch.
Blazing a course that demands attention, Arieyl's rocketship continues to innovate, inspire, rejuvenate and challenge the way people see the network marketing industry and they are just getting started with the best still yet to come.
About Arieyl
From Food Stamps & Foreclosure to Financially Freedom. Kristen and Travis Butler, top earners in the industry decided to create an opportunity for people just like them to live out their craziest dreams.
With our fast paced, busy lifestyles we give you the flexibility to grow a successful business at your fingertips. Arieyl is more than just creating a source of income, it is about creating your best life! Getaway with our fun incentive trips and spoil yourself with prizes you'd probably never splurge on.
For more information please visit www.arieyl.com
Recommended Distributors Arieyl