Nu Skin Top Leader Nathan Ricks Killed In A Plane Crash
January 3, 2023
By Team Business For Home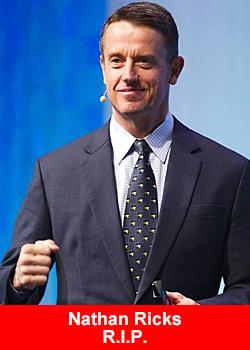 Nathan Ricks died in a plane crash in Provo airport, Utah, USA.
Three others injured after a small plane crashed Monday afternoon at the Provo Airport.
Provo City officials said the private plane crashed  "immediately after takeoff" around 11:35 a.m.  Ricks was killed in the crash, while 51-year-old Brent Beardall — who was in the co-pilot seat — was hospitalized in critical condition but is expected to recover.

The other two passengers — Ricks' wife, Joyce Ricks, 56, and Dane Margetts, 36 — suffered "what appears to be minor bumps and bruises," according to a statement on Provo's Facebook page.
Ricks owned his own jet and was an accomplished pilot. He was flying his wife and two friends to attend the Rose Bowl game on Monday morning.
Their small Embraer Phenom 300 aircraft crashed about 1,500 feet down the runway  Provo Airport Director Brian Torgesen initially said the crash did not seem to be weather-related.
Nathan Ricks has been a leader in the network marketing world for three decades. His explosive career began in 1989 when he created an independent distributor force of 100,000 people in just 24 short months at Nu Skin.
He has since become a world-renown network marketer, public speaker, and businessman, as well as one of the largest commercial real estate developers in the State of Utah.
He is a $20 Million Dollar Circle Member of Nu Skin Enterprises. He has become one of largest distributors in Nu Skin's history.
He is the founder of One Team Global (OTG), a worldwide sales organization with over 500,000 distributors in 54 countries. The OTG team is responsible for the movement of nearly 1 Billion USD in Nu Skin/Pharmanex products annually.
Nathan was also instrumental in the launch of Nu Skin Japan where it achieved the highest first year sales of any foreign company in Japan's history. Year 1 sales: $135 million.
Ricks has a Bachelors of Science in Business Administration from the University of Phoenix. In addition to the foregoing, other notable achievements include:
Creating the sales video "Catching the Wave" that sold over 3 Million copies • Creating the 1st Global Internet Broadcast Network delivering sales and training content to a worldwide audience weekly at zero cost to the recipients.
Holding the largest "live" telephone conference call with AT&T's MultiPoint Satellite linked Conference call system in 1991. Maxed out the system capacity of 10,000 callers.
Hosting a nationwide live conference call for sales associates weekly since 1995.
Creating the "Health Report for the 90's" video and "Real People" Video both of which sold hundreds of thousands of copies in the USA.
Creating the "Right Place, Right Time, Right Now" Audio tape series which has sold over 2 million copies in 8 years
Recommended Distributors Nu Skin