Stemtech Anticipates Growth Rate In 2023 Will Exceed 2022
January 19, 2023
By Team Business For Home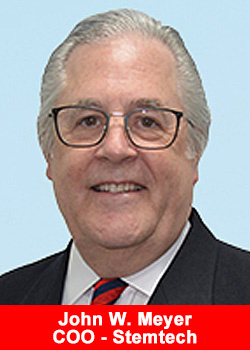 Stemtech today announced VISION 2023 concerning the exciting developments planned for the new year.
President and Chief Operating Officer, John W. Meyer says that "VISION 2023 for Stemtech was built on the foundations we enacted over the course of 2022.
"Our efforts were rewarded with a 20% growth of new Independent Business Partners (IBPs) and customers over FY 2021. We anticipate that this growth rate will actually be exceeded this year.

We introduced the powerful AdvanceOffice Mobile app for all of our distributors which enables them to operate their entire business via the app.

We launched a new proprietary blend named "CellectOne™", a Rapid Renew Stem Cell Peptide Night Cream; we held our international conference in Cancun, Mexico this past December. Each one of these investments have generated exciting growth far beyond our expectations"
"For the upcoming fiscal year, we expect to increase our customer base as well as revenue. Much of this stems not only from our new product lines or increasing sales, but as much our human factor.
Our Field attendees came away from our Cancun event filled with excitement and new strategies to take to their customers, sharing the many opportunities of Stemtech.
We believe that sales will increase considerably in 2023 given the launch of our new product lines, our new distributor tools, and having more in-person meetings and events planned. This will include Business Academy events and regional gatherings expanding our distributor base"
says Vice President of Global Sales, Alejandro Carrillo.
Vice President of Global Performance, Sandra Kazickaite notes that
"with Stemtech's new AdvanceOffice mobile app's enhanced features, we believe that our IBPs will be able to increase their ability to communicate with more prospective customers by at least twenty percent. They may share, track and follow-up as well as know their business key performance indicators in their hands, anytime, anywhere in real time."
About Stemtech
Stemtech Corporation, a leading stemceutical™ company with a direct sales distribution model, was founded on April 18, 2018, after acquiring the operations from its predecessor Stemtech International, Inc., which was established in 2005. From 2010 through 2015, Stemtech International, Inc., was recognized four separate times on the Inc. 5000 Fastest-Growing Companies list. In 2018, Stemtech underwent an extensive executive reorganization, and continued operations under new leadership as Stemtech Corporation.
In August 2021, Stemtech became a publicly traded company (OTCQB: STEK) and has expanded business opportunities for its Independent Business Partners, who may earn incomes by sharing Stemtech products. January 2022 saw the introduction of new marketing efforts. In August 2022, Professor Doctor Bankole Johnson joined Dr. Enrique Martinez and Dr. Lizette Leos on the Stemtech Life Sciences Advisory Board.
In September 2022, the new Stemtech AdvanceOffice mobile app based on the VERB Technology platform was successfully launched as a powerful communication – recruiting tool for our Field. In October, Life Factor Research became the Research and Development, product formulation – science division of Stemtech to create cutting-edge stemceuticals and other products. On November 1, 2022, Stemtech introduced the new travel/sample size OraStem® Toothpaste.
On December 6, Stemtech announced the promotion of Alejandro Carrillo to the role of Vice President Global Sales from his current role as Managing Director Latin Markets. Stemtech introduced the new CellectOne™ Rapid Renew Stem Cell Peptide Night Moisturizer at their December 6 International Leadership Event in Cancun, Mexico. Life Factor Research obtained their first third-party manufacturing contract.