MyTravelVentures Keeps the Adventures Coming
February 1, 2023
By Team Business For Home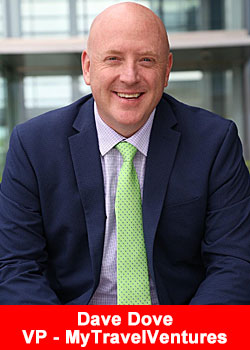 It's been famously said, "The art of travel is to deviate from one's plans."
Those words certainly rang true for MyTravelVentures when they chose to rebrand shortly after celebrating their very successful launch under a different name. So why make the change? To further distinguish themselves in the travel industry.
"We did not make the decision to change our name lightly. However, in the end, we wanted to do what was right for our Members by continuing to deliver incredible service and providing a powerful earning opportunity for our Affiliates,"
said Vice President of MyTravelVentures Dave Dove.
"We founded this company on the idea of changing how people relate to travel by making it affordable for everyone; shaking up the industry is an inevitable byproduct of that goal.

So from the beginning, setting our company apart was imperative – we're not just in a class of our own, but a whole other league, and we prefer it that way. This name change is a small reflection of our commitment to forging a new path in the travel industry."
While the name MyTravelVentures may be new, the business model remains the same.
MyTravelVentures' subscription-based membership plan offers Members full access to exclusive deals across the travel industry, with true wholesale savings of up to 65% on services like flights, hotels, transportation, and events, as well as non-travel-related services such as retailer discounts, cash-back perks, and even tele-health services.
MyTravelVentures also offers a robust Affiliate program with a generous compensation plan and an industry-shaking revenue sharing program for active Affiliates.
Those interested in learning more about MyTravelVentures Memberships and Affiliate opportunities can find more at mytravelventures.com.
About MyTravelVentures
MyTravelVentures™ is a travel club designed with you in mind. Whether you take one trip or ten, you save money each and every time you travel.
Members can bring their dreams to life with discounts on hotels, resorts, cruises, and condos, plus extra savings on car rentals, activities, flights, and shopping. Craft your perfect adventures and discover the possibilities. With thousands of destinations to choose from, the world is yours to explore! For more information, visit www.mytravelventures.com