Nu Skin Revenue 2022 Down 17% To $2,230 Million
February 15, 2023
By Team Business For Home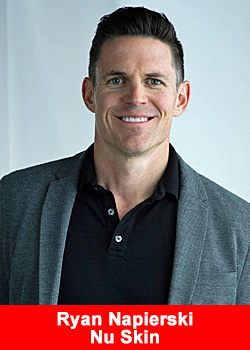 Nu Skin Enterprises, Inc. (NYSE: NUS) today announced fourth quarter and full year 2022 results.
Revenue: $522.3 million; (22)% (7)% FX impact or $(51) million. Earnings Per Share (EPS):
$1.15 or $0.89 excluding restructuring and impairment chargesassociated with the company's strategic resource reallocation and arecent IRS-approved favorable tax method change, compared to $(0.18) or $1.11 excluding restructuring and impairment charges in Q4 2021.
Customers: 1,147,124; (16)%
Paid Affiliates: 236,956; (13)%
Sales Leaders: 48,737; (21)%
Executive Summary 2022 vs. 2021
Revenue: $2.23 billion; (17)%
(5)% FX impact or $(150) million
Earnings Per Share (EPS):
$2.07 or $2.90 excluding restructuring and impairment charges and a tax method change, compared to $2.86 or $4.14 excluding
restructuring and impairment charges.
"We made steady progress toward our Nu Vision 2025 strategy, despite persistent macro-economic challenges, which primarily included COVID-related disruptions in Mainland China, global inflation and foreign currency headwinds,"
said Ryan Napierski, Nu Skin president and CEO.
"We achieved several key milestones during 2022 including the introduction of our first connected device, ageLOC® LumiSpa® iO, further strengthening our position as the world's leading beauty device system brand; the rollout of our Vera and Stela apps in all markets, which provide increased consumer and affiliate engagement; and steady advancements with our social commerce model.

While we saw our sales channel contract primarily due to macroeconomic factors, we drove annual revenue growth of 4 percent in the U.S. and 2 percent in Southeast Asia/Pacific. Japan and Hong Kong/Taiwan also grew in constant currency, while reported revenue was down due to FX headwinds.

Looking ahead, while the macro-environment remains uncertain, we expect it to steadily improve throughout the year. We remain confident in our Nu Vision 2025 strategy to help drive long-term growth and increase shareholder value, which we will update on our earnings call today. During the year, we will be advancing our EmpowerMe personalized beauty and wellness strategy by introducing our body iO smart, connected device system and rolling out our TRMe® weight management line.

We will also continue to enhance our Vera and Stela apps with additional capabilities, features and improvements to streamline the overall user experience. In addition, as we continue to expand our affiliate-powered social commerce model, we will focus on stabilizing performance in more challenged regions and leveraging best practices from our markets that are further along in their social commerce transition.

Lastly, as we navigate the year ahead, we will continue to be conservative in our guidance and prudent in our cost management while we invest in our future."
About Nu Skin Enterprises
Nu Skin Enterprises, Inc. (NYSE: NUS) is a global integrated beauty and wellness company, powered by a dynamic affiliate opportunity platform. The company helps people look, feel and live their best with products that combine the best of science, technology and nature.
Backed by more than 35 years of scientific research, Nu Skin develops innovative products including Nu Skin® personal care, Pharmanex® nutrition and the ageLOC® anti-aging brand which includes an award-winning line of beauty device systems.
Nu Skin operates in approximately 50 markets worldwide in the Americas, Asia, Europe, Africa and the Pacific. Rhyz Inc. is the company's strategic investment arm that includes a collection of technology and manufacturing companies to support growth in the core Nu Skin business.
Nu Skin is committed to sustainability, including global initiatives such as transitioning to reduced and sustainable packaging for all products by 2030. The Nu Skin Force for Good Foundation also strives to improve children's health, education and economic circumstances throughout the world. For more information, visit nuskin.com.