USANA Sales 2022 Down 16% To $999 Million
February 13, 2023
By Team Business For Home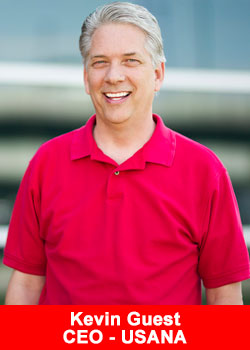 USANA Health Sciences, Inc. announced financial results for its fiscal fourth quarter and full year ended December 31, 2022.
Key Financial & Operating Results
Fourth quarter net sales were $228 million versus $267 million during the prior-year period.
Fourth quarter diluted EPS was $0.66 as compared with $1.03 during Q4 2021.
Fiscal year 2022 net sales were $999 million as compared with $1,186 million during fiscal year 2021.
Fiscal year 2022 diluted EPS totaled $3.59 versus $5.73 during fiscal year 2021.
Fiscal year 2022 operating cash flow totaled $104 million.
Company reiterates fiscal year 2023 net sales and diluted EPS outlook of $850 million to $950 million and $2.35 to $3.30, respectively.
"Our fourth quarter and full year results were largely in line with our preliminary results announced on January 5, 2023,"
said Kevin Guest, Chief Executive Officer and Chairman of the Board.
"During the fourth quarter, total Active Customer counts stabilized in several key markets and increased 3% sequentially. In addition, sales and customer activity in mainland China increased during the final two weeks of the year following the Chinese government's unanticipated shift in COVID policy. This increase in sales and customer activity was due largely to increased demand for several of our health products in China."

"While 2022 presented a challenging operating environment for both USANA and our industry, we remained focused on executing our long-term growth strategy. In 2022, we made progress in several areas that position USANA for future growth.

These areas include digital commerce initiatives to support our business, new market expansion, the launch of our Affiliate program in select markets, and the completion of two acquisitions. These activities further our efforts to differentiate and diversify our business while contributing to shareholder returns."
About USANA
USANA develops and manufactures high-quality nutritional supplements, functional foods and personal care products that are sold directly to Associates and Preferred Customers throughout the United States, Canada, Australia, New Zealand, Hong Kong, China, Japan, Taiwan, South Korea, Singapore, Mexico, Malaysia, the Philippines, the Netherlands, the United Kingdom, Thailand, France, Belgium, Colombia, Indonesia, Germany, Spain, Romania, and Italy. More information on USANA can be found at www.usana.com.