FUTURES Convention In France Attracts 2,500 Attendees
March 6, 2023
By Team Business For Home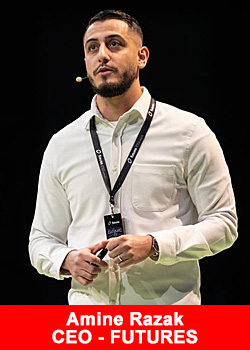 FUTURES has recently hosted a big event in France, with more than 2,500 attendees.
At the Lyon Congress Palace, Amine Razak, CEO, and Master Distributor Mohamed Ifqirne announced some major news that will change the future of the company. The event was a huge success and brought the world of crypto and trading closer to the masses.
FUTURES is a company that has been offering its clients access to a wide range of services related to the crypto and trading industry since 2019.

They have a proven track record of providing exceptional services to their clients. Additionally, they offer a wide range of educational resources to help their clients stay up to date with the latest trends and developments in the industry.
FUTURES has achieved a significant milestone by becoming the first crypto & trading MLM on the French market. This achievement has put FUTURES in a good position to capitalize on the growing interest in the industry.
This news has the potential to revolutionize the way people invest in cryptocurrency. With the MLM model, investors can be rewarded for sharing their experience, creating a powerful incentive for people to join the platform and invest in cryptocurrency and gain knowledge.
Another exciting development announced at the event was the launch of a new application on the Play Store and App Store. The new application is designed to make it easier for clients to access FUTURES' range of services.

The application provides a simple and user-friendly interface, making it easy for clients to manage their digital assets and take advantage of the many services and online office that FUTURES offers.
In addition to their groundbreaking developments in the world of Cryptocurrency & Trading, FUTURES has also launched a new clothing brand called FUTURES COLLECTION.
The new brand is designed to appeal to fashion lovers and those interested in the latest trends in the industry. The FUTURES COLLECTION offers a wide range of clothing options, including t-shirts, hoodies, and caps.
Mohamed Ifqirne, the Master Distributor of the company, explained to the distributors that they can achieve MLM rank by selling FUTURES COLLECTION clothes using their own link.
At the event, Amine Razak, the CEO of the company, explained that FUTURES has already made a significant impact in the French market, and they are now ready to host the world on their platform.
This announcement is huge news for cryptocurrency enthusiasts all over the world, as it means that they can now use the FUTURES platform from anywhere in the world. FUTURES is a global platform that is dedicated to bringing the world of cryptocurrency & trading closer to the masses.
About Futures
Futures is an online education platform that provides Financial education curses and financial services access. The company was founded in 2019 by CEO, Amine Razak, from France.
Futures is the first ranked financial services MLM in the French Market and just opened her doors for the international market in 2023. For more information, please visit www.futuresinfinity.com
Recommended Distributors Futures Infinity