GO Has Record Breaking First Month
March 2, 2023
By Team Business For Home
After its recent prelaunch event on February 1st, the over 30,000 members in attendance made sure to help GO create a historic 1st month. The company had one of the best months in the history of network marketing with record breaking sales in only its first month.
People from over 100 countries and speaking more than 20 different languages have joined the GO business model, which is a testament to the company's leadership, community, vision, and mission.
Education and personal development are essential for shaping one's future and GO fully intends to become the world's leading education platform.  Expecting to debut its platform at its soon to be announced Official GO Launch event, the company is committing unprecedented resources to make sure it secures top level training and courses on various topics from the world's most sought after thought leaders.
"GO has taken the traditional network marketing model and created a model that will expand what was once possible. By focusing on empowering individuals to start and grow their own businesses, GO has created a model that is sustainable and scalable."
Says CEO Nader Poordeljoo.
≈The company's unique approach, with its earn while you learn affiliate program, is a major reason for GO's first month's success. This approach has attracted people from all walks of life who are looking to improve their skills, acquire new knowledge, and grow personally and professionally.
"GO is not just another company; it's a revolution. We expect our platform and affiliate program to make a positive impact on more lives than any company in the industry.  Thanks to our incredible community, we are already off to a great start attracting more people and doing more sales in our first month than most companies do in their first few years."
Says COO A.K. Khalil.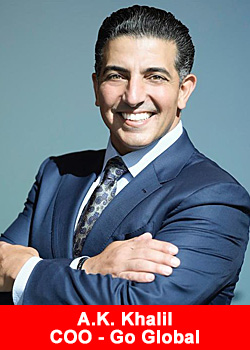 GO's success is also a testament to the growing trend of network marketing, which is becoming increasingly popular as people look for alternative ways to earn income and gain financial independence. With its innovative business model, GO has managed to stand out in a crowded market and attract a diverse group of individuals from around the world.
The success of GO's first month is just the beginning of what promises to be an exciting journey. With its focus on education and personal development, GO is well-positioned to continue its growth and empower more individuals to achieve their full potential.
As the world becomes more competitive and fast-paced, the need for high-quality education and personal development resources will only continue to grow, making GO a valuable resource for individuals looking to thrive in today's world.
About GO
GO is an educational platform that provides the best education for professional growth to empower the world. GO aims to empower individuals to acquire the skills and knowledge they need to succeed in life. GO is a one-stop access to the world's top-notch self-development courses expertly crafted by the best motivational coaches, and the top leaders of the respective sectors.
The mission of GO is to develop future leaders by providing access to high-quality education and breaking down barriers that may prevent individuals from achieving their full potential. Unleashing the potential within individuals and communities through personalized resources and support, we strive to arm them with the knowledge and tools necessary to craft their own destiny and make a positive impact on society and the world at large. To know more, visit us at goglobal.network
Recommended Distributors Go Global