Success Factory Celebrates Its 5th Anniversary In Dubai
March 11, 2023
By Team Business For Home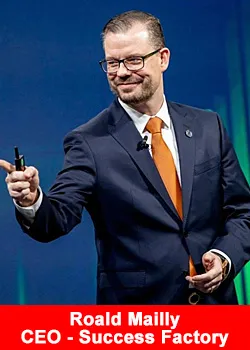 Last weekend, Success Factory celebrated its 5th in Dubai. The event theme was "Eternal Flame," where thousands gathered to celebrate a timeless light blazing the path for people seeking financial freedom and strength.
The Dubai annual event has always been the most significant event for Success Factory. While in February 2021 and 2022, it was held virtually, making 2023 even more special.
Roald Mailly, Success Factory's CEO, opened 2023's event with a welcome message and spoke about the company's growth and expansion. Mr. Mailly reflected on the company's growth path and showed appreciation to an ever-growing community since 2018.
Over three days, Success Factory held recognitions, training, and corporate updates. Global and Regional leaders, Guest speakers, and members of the 2023 Circle of Champions – a group of selected leaders chosen and recognized annually – gave training during the three days event held on Feb 24 – 26.
Success Factory welcomed two guest speakers from the US for the first time. Danelle Delgado and Mike R. Draper took to the stage to help people succeed in personal and professional growth and thrive on social media.
On the corporate side, Roald Mailly previewed some of the company's newest developments. He discussed new product portfolios and ecosystem concepts to improve managing personal and professional finances. Soon, small incomes to large fortunes can better navigate the current economic situation in the world.
Jason Tyne, CEO of the US, had two sessions over the weekend. The first focused on Forex Insiders and Success Factory star products; Jason gave technical details about Forex Insiders' function and examples of ROI.
The second Session focused on a new concept: Make, Keep, and Multiply money. The Session is not linked to a specific product. Still, it focuses on helping people seize control over their finances and face any economic instability. Success Factory will provide practical knowledge on generating income, establishing standards for keeping the money, and then growing wealth through wise investments to achieve true financial freedom.
Speaking of products, The View, Success Factory's virtual experience platform, was announced to enter its official launch period.

The prominent people behind the project shed light on the upcoming technology they have in hand and how virtual reality, e-commerce, and social media will be interlinked.
While the information on current and future products, and company updates, were much anticipated; however, the most awaited moment for everyone was the on-stage recognition. Given that many of the affiliates had not been able to receive their credit and award live for the past two events, these moments were extra special this year. Success Factory recognized leaders across various ranks, which added to the excitement.
In addition, this edition has been especially fruitful, with many Diamonds and Blue Diamonds, and several leaders in the Ambassador rank, one of the highest ranks.
In the words of CEO Roald Mailly, "Success Factory has come of age." At five years old, Success Factory is more grounded than ever. It is positioned as an established company starting to look to its next five years of growth and success with more ambitious goals.
The Eternal Flame will continue to burn bright, reminding us of the enduring human spirit and our shared commitment to building a better world for all.
About Success Factory
Success Factory is a network marketing company whose primary goal is to promote human potential and support the latest technology, relying on innovative and creative proposals that bring real solutions to the lifestyle in the 21st century.
The company's product catalog is mainly digital, covering the spheres of technology, education, sales skills, and financial expertise.
All while continuously improving quality, usability, and exceptionality and offering its sales force different products to work with. The most outstanding items within the extensive ecosystem of the company are Forex Insiders, and The View.
Success Factory has become the company that transforms network marketing human lives above all. This company detects, trains, and empowers the sales professionals who will be the industry's great legends tomorrow. Find more information on the company's website www.successfactory.com.
Recommended Distributors Success Factory