Partner.Co: A Storied History With An Exciting Future
April 7, 2023
By Team Business For Home
According to a Partner.co press release:
Direct-selling company uses experience, field-driven approach for success. With its official launch in February 2023, Partner.Co uses the time-honored traditions of the four companies brought together under its banner:
ARIIX
Morinda (Tahitian Noni®)
LIMU® and
Zennoa®
To bring together success-fueled entrepreneurs and wellness enthusiasts from all backgrounds and unique expertise to partner in health and happiness.
Helmed by Chief Executive Officer Darren Zobrist and Chief Brand Partner Officer John Wadsworth, Partner.Co's leadership team is the ideal blend of field experience and business acumen, thanks to Wadsworth's 25 years in the industry and Zobrist's Wall Street career and historical success of growing a stable, high-impact company.
The bedrock of Partner.Co is its worldwide infrastructure. Open for business in over 50 countries with the unique advantage of having a license to operate in China, Partner.Co also has a growing presence in the
USA
Europe
Japan
Korea
Canada
Latin America
Southeast Asia
Africa
the Middle East and
Australia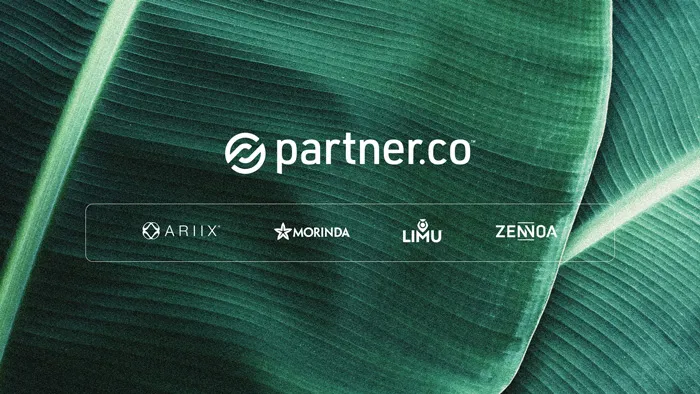 This global footprint allows countless people around the world the opportunity to share in the company's success.
"It's essential for us to harness the interconnectedness of this digital age to provide extraordinary opportunities to our field leaders globally. With our infrastructure and Brand Partner support system, we can join together in amazing experiences while simultaneously helping everyone surpass their personal expectations of success."
John Wadsworth said.
Partner.Co's infrastructure, long-term stability and solid foundation are some of the many things that separate it from other companies. Multiple products have won awards due to the rigorous and meticulous formulation and manufacturing processes undertaken by their team of scientists. They've conducted over 100 clinical studies on Partner.Co products and published 120+ peer-reviewed scientific papers. The company also has four novel food approvals in the European Union and Functional food approvals for Tahitian Noni® ORIGINAL & Max in China.
Paired with their award-winning products, Partner.Co also has an award-winning compensation plan — recently voted the best compensation plan in a poll by Business For Home — that allows Brand Partners to reap many different rewards for their hard work. The generous payout from selling products allows Brand Partners to grow their businesses exponentially. They get rewarded with other bonuses, including special trips, invitations to exclusive parties worldwide and the chance to cash in earned credits for dream experiences the Brand Partners themselves can create.
"One of my lifelong passions has been to work with companies that grow and uplift people. Between our award-winning products that show real results and our fantastic compensation plan, we've created Partner.Co to do just that,"
Zobrist said, adding,
"We want our Brand Partners to feel honored to work with Partner.Co and I believe our Compensation Plan and Brand Partner Bill of Rights gives them a physical representation of that, whether through money, trips or any other rewards and benefits we offer."
As Partner.Co moves into the future, the focus, Zobrist said, will always be on the Brand Partners, utilizing a field-driven approach that will ensure continued mutual success for everyone involved.
"At the end of the day, we are nothing without our Brand Partners. Everything we do is designed to ensure the decisions we make are beneficial for them and driven by them,"
he said.
About Partner.Co
Partner.Co brings together success-fueled entrepreneurs and wellness enthusiasts from all backgrounds and unique expertise to partner in health, wealth and self. Partner.Co's embracing of different cultures and beliefs fosters a true partnership where the company and the field protect each other and share a bond that ensures shared success. More information can be found at Partner.Co.
Recommended Distributors Partner.co (ARIIX, Noni, LIMU, Zennoa)