Startup Go Global Achieves 50,000 Paid Customers And Distributors In 2 Months
April 8, 2023
By Team Business For Home
GO Global: Second Month Surpasses Expectations with March Achievements.

The recently launched GO platform had a remarkable month in March after a historical and record breaking first month.  GO Global was able to achieve outstanding results that exceeded even its own expectations. In just 2 short months, GO Global is on pace to have the single best year in terms of total revenue and new customer acquisition compared to any company that has come before it. 
The company credits its initial success to its outstanding field leadership team that have shown they are committed to the company mission as well as vision of the corporate leadership team.  With this type of commitment from its leaders that span over 50 countries, GO Global is definitely on track to continue its success.
"We are thrilled with the outstanding results we achieved in March, and we are deeply grateful to our members for their unwavering support. Our commitment to transparency, accountability, and accessibility is at the core of everything we do."
said CEO Nader Poordeljoo.

Despite being a relatively new player in the industry, GO Global has already set new benchmarks for the sector, and the number of sign-ups in March was evidence of the trust and confidence its members have in the company.
The top three countries in GO Global were France, South Korea, and the Netherlands, with many notable success stories coming from these countries. The company congratulated all its members for their remarkable achievements and thanked them for their continued support.
One of the highlights of March for GO Global was its privately held, visionary leadership meeting in Panama that was attended by 150 of the top leaders in its LATAM market.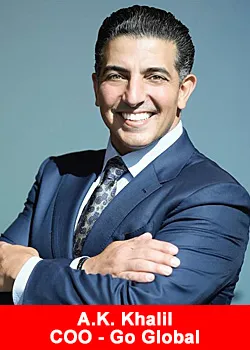 In this meeting the company shared its vision for the future and shared key dates of some very exciting updates, announcements and new releases.  This was a very exciting time for the company as it allowed the chance to spend time with some of its top leaders and learn and gain knowledge from their experiences thus far.

"The meeting in Panama was a very exciting time for us. Our leaders are the most important part of our business. Anytime we have a chance to spend time with them discussing and planning the future is always a blessing as our members are the driving force behind our success. 
We are committed to supporting our members to achieve their full potential and are extremely excited to release phase 1 of our education platform this month." 
said COO A.K. Khalil.

GO Global has revealed that in addition to its remarkable accomplishments in March, it anticipates releasing Phase 1 of its eagerly awaited education platform this month. This new platform will give its users a thorough educational experience, advancing the company's goal of empowering people and businesses worldwide.
With the upcoming launch of this platform, GO Global aims to build a community that is even more varied and inclusive while also offering the best learning and development opportunities to enable people to achieve their full potential.

GO's innovative approach is changing the game in the network marketing industry, and its remarkable achievements in just two months have set it on a path of continued success. With its highly anticipated education platform set to be released this month, the company is poised to reach even greater heights.  

About GO Global

GO Global is an educational platform that provides the best education for professional growth to empower the world. The company aims to empower individuals to acquire the skills and knowledge they need to succeed in life. GO Global is a one-stop access to the world's top-notch self-development courses expertly crafted by the best motivational coaches, and the top leaders of the respective sectors.

The mission of GO Global is to develop future leaders by providing access to high-quality education and breaking down barriers that may prevent individuals from achieving their full potential.
Unleashing the potential within individuals and communities through personalized resources and support, we strive to arm them with the knowledge and tools necessary to craft their own destiny and make a positive impact on society and the world at large. To know more, visit us at goglobal.network 
Recommended Distributors Go Global