GO Global Leadership Tour Kicks Off In Panama
May 7, 2023
By Team Business For Home
GO Global, recently held a private and exclusive leadership meeting in Panama with a focus on sharing the vision for the months and years to come.
Attended by a select group of industry leaders, the meeting provided a unique opportunity for the company and leaders to learn and discuss the roadmap and strategies that will be taking place.
With an emphasis on building a world class leadership team with a goal of building the largest community in the industry in the next 5 years, the company expressed its commitment to the members to ensure success for every member of its community.
"Our top leaders are the backbone of our business. We value their contributions and are committed to supporting them in achieving their full potential,"
said CEO Nader Poordeljoo.
As part of GO Global's commitment to empowering its members, the company is thrilled to announce the pre-launch of its education platform 'GO Learn' this month. This platform will provide its members with the tools and resources they need to succeed and achieve their goals.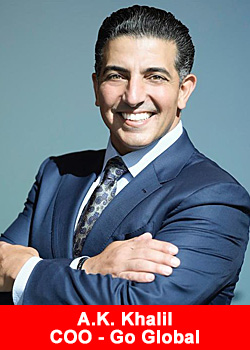 "GO Learn educational platform is just the beginning of our commitment to our members. We are dedicated to empowering them and helping them achieve their goals. Our leaders are the most important part of our business.

Anytime we have a chance to spend time with them discussing and planning the future and vision of the company is always a blessing,"
said COO A.K. Khalil

With this recent meeting and the pre-launch of its education platform, GO Global is well-positioned for continued success and growth in the LATAM market. The company looks forward to empowering its members and helping them achieve their full potential.

GO Global is committed to supporting its leaders and members in achieving their full potential.  With many new enhancements, tools and product releases expected to launch this year, the company looks forward to empowering its members with all the necessary tools and resources they need to succeed.

About GO Global

GO Global is an affiliate program with an educational platform that provides the best online education for personal and professional growth. The company aims to empower individuals to acquire the skills and knowledge they need to succeed in all areas of their life. GO Global is a one-stop access to the world's top-notch self-development courses expertly crafted by the best motivational coaches, and the top leaders of the respective sectors.

The mission of GO Global is to develop future leaders by providing access to high-quality education and breaking down barriers that may prevent individuals from achieving their full potential. Unleashing the potential within individuals and communities through personalized resources and support, we strive to arm them with the knowledge and tools necessary to craft their own destiny and make a positive impact on society and the world at large. To know more, visit us at goglobal.network 

Recommended Distributors Go Global