Lucas Bazán From Argentina Achieves Diamond Rank At ZETA
May 15, 2023
By Team Business For Home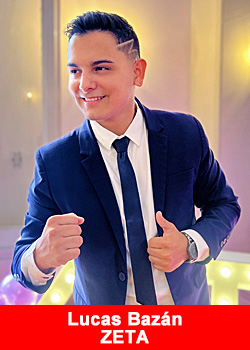 Lucas Bazán, a young man of only 25 years of age, is positioned as the new diamond of Argentina, with commissions of more than $40,000 per month.*
ZETA continues to build success stories and on this occasion one of the young people with the greatest projection in recent months for the company, positions himself with a new rank, making it clear that ARGENTINA is one of the powers in the network marketing industry.
At 17 years old, Lucas decided to undertake through education, looking for different learning alternatives that would allow him to grow professionally and financially. He has been a determined person focused on meeting his goals, willing to learn and looking for people to guide him on a path full of success.
"Everything I have achieved I have done thanks to my desire to grow, nobody was there to help me, until I met my mentor Allan Badilla who together with ZETA GROUP have made me reach the highest point of my career,"
Lucas Bazan said.
Two years ago, this young businessman was dedicated to the world of finance, acquiring skills that have allowed him to manage his capital and have clear risk management. This led him to obtain a master's degree in finance and to generate a profitable business for his family in less than 3 years.
Lucas Bazan is a grateful leader with the teachings of his mother, who to date has been his mentor and companion throughout his training, his ethics of work and advice, have made this leader become an emblematic diamond for Argentina.
His impetus led him to share everything he has learned for years and decided to support people, this made him return to the network marketing industry together with ZETA GROUP, a company whose focus is training successful entrepreneurs for the new era. digital.
"I am going to support and guide you, I am going to teach you how this world moves and I will give every moment of myself for you, for your wife and the little baby that is on the way, I know that with my help, you will achieve what you deserve, This is not only for you but also for the future of your children,"
said Allan Badilla.
The visibility and clarity of this entrepreneur will lead him to achieve great things. In addition, he will be the key to positioning Argentina as one of the strongest countries in digital business.
ZETA is a company focused on creating entrepreneurs dedicated to the new digital economy, during its first 11 months it has been creating different growth opportunities for people who are willing to generate another source of income through education, this was the case with Lucas Bazan who is now a benchmark for future generations with his wife who is also part of the company.
"If luck exists, it has to find you working"
Lucas Bazan said.
*Earnings Disclaimer:
The earnings and success of the featured top distributor are not typical and do not guarantee similar results for all participants. Individual outcomes in network marketing vary based on factors such as personal effort, skillset, and market conditions.
This article should not be considered as the sole source of information for making decisions about participating in any network marketing opportunity. Conduct your own research and due diligence before pursuing any such opportunities.