Matthias Knebel Achieves Leader Rank At Yanoli
May 9, 2023
By Team Business For Home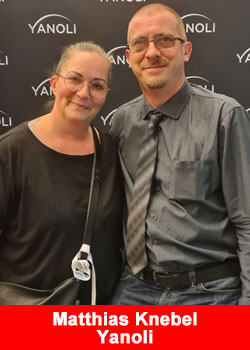 Matthias Knebel is an exceptional networker who defies all odds! As a deaf leader, he has shown us that nothing can stand in the way of achieving success in the exciting world of network marketing. With the support of Yanoli, Matthias has reached the pinnacle of leadership by attaining the highly coveted Leader rank in record time.
Matthias is truly an inspiration, and his success story highlights the limitless possibilities that network marketing offers. Yanoli´s co-founder Laura Lipinski said:
"Yanoli is proud to have him as part of the team, and we are committed to providing him with the resources and support needed to take his leadership skills to new heights."
At the Yanoli opening event, Matthias was recognized for his outstanding achievements by being awarded the Junior Leader title. Motivated by this recognition, he quickly rose to the rank of Yanoli Leader in just 24 hours.
He has also earned a prestigious membership in the exclusive Founder Club, which is a testament to his unwavering dedication and hard work.
Matthias' remarkable leadership skills have made him the top leader in the Teamleader 24 team, and his sponsors, Simeon Wilhelm and Dennis Isermann, couldn't be prouder. Matthias is now focused on reaching the next rank and making an even greater impact on Yanoli's growth.
With his expertise in the international and german sign languages, Matthias is perfectly positioned to build an international team and empower not only deaf but also hearing individuals worldwide to achieve financial freedom through network marketing.
About Yanoli
Yanoli is a French-German company that was co-founded in November 2022 by Jérôme Hoerth, Helena Löwenstein, and Laura Lipinski. Their mission is to bring together complementing skills, talents, products, and systems to ignite each individual's full potential to improve their world.
Yanoli's products focus on improving wellness and self-care, boosting the immune system, reducing stress levels, and improving self-esteem to contribute to a better quality of life. Yanoli's founders value ethical behavior, fairness, diversity, and equal opportunities. They are nature and animal lovers who are young at heart and mature in the head, and are aware of their responsibility as role models in the industry. For more information please visit www.yanoli.com