MyDailyChoice Launches Marketplace
May 15, 2023
By Team Business For Home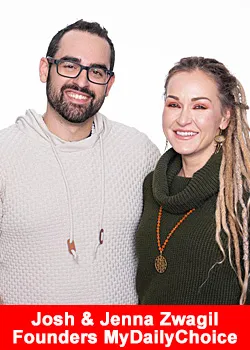 MyDailyChoice is proud to announce the launch of their new Marketplace, offering Affiliates and Customers a unique shopping experience.
When MyDailyChoice was founded in 2014, the vision was to develop a house of brands so Affiliates and Customers had a wide range of products to consume and market to others. Over the past 8 years, MDC has launched 10 brands and has generated hundreds of millions in revenue from its dynamic product offering.
This exciting Marketplace concept allows MDC to partner with brands who are interested in selling their products through Network Marketing. By MDC partnering with reputable brands worldwide, Affiliates and Customers will have an even wider range of products in some of the most sought after categories.
"We are excited to introduce our Marketplace which offers a unique selection of products from a variety of brands. Our Affiliates and Customers will not only continue to have access to their favorite products they already purchase monthly with MDC, but they'll have access to a whole new world of products and trusted brands,"
says CEO and Founder Josh Zwagil.
In addition to offering Customers and Affiliates a new and exciting way to shop, the MyDailyChoice Marketplace is also a powerful business tool for Brand Partners. By becoming a brand partner, entrepreneurs can sell their products through the MyDailyChoice Marketplace and gain access to MyDailyChoice's extensive network of Customers and Affiliates.
Brands are now able to apply and get approved to sell their products in the MDC marketplace just like Amazon and some of the largest e-commerce websites. As brands get approved, they'll be able to leverage MDC's cutting edge technology, global infrastructure, and large database of Affiliates and Customers. Learn more about the brand partner program here: mydailychoice.com/brand-partner
Chief Visionary Officer Jenna Zwagil says,
"The future for all businesses in every industry is collaboration and MDC Marketplace is the first step for not only creating collaboration among the network marketing industry but for the e-commerce and retail industries as well. When companies can bring their top products together under one, simple shopping environment, consumer loyalty is the result."
About MyDailyChoice
Josh and Jenna Zwagil are passionate about providing a true "home" for their affiliates and have created MyDailyChoice. The powerful and rewarding House of Brands delivers the best products and services in health and wellness, performance, weight management, beauty and cosmetics, travel, financial education, automotive, and more.
MDC consistently pursues leading-edge services, technologies, product offerings, and new ways of thinking. Learn more at MyDailyChoice.com.
Recommended Distributors MyDailyChoice