Top Leaders Gregg & Lenika Scott Find A New Home At Partner.Co
May 8, 2023
By Team Business For Home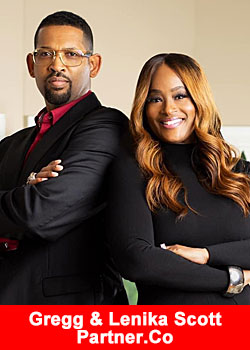 Industry veterans and top leaders Gregg and Lenika Scott have found a new home for themselves and their team — Partner.Co.
With over 20 years of experience in the industry, they recently found themselves disheartened with the state of things, unsure if they even wanted to continue doing what they knew so well. But a conversation with Lenika's spiritual mentor changed that. Her mentor told her,
"If you did it before, you can do it again."
This was the push she needed to get back in the game and find the right, new opportunity. Then, Fred Herzog and Nicole Herzog-Vossler introduced this power couple to Partner.Co.
Having spent most of the last decade with another company, the Scotts established themselves as industry titans, becoming one of the "Founding Families" and playing a key role in their company's overall growth and success.
In 2014, for example, their tireless efforts and forward-thinking mindset propelled the company from $10 million to $100 million in sales in just one year.
Soon, they were contributing to over $1 billion in annual sales. Within their first year at the company, they generated six-figure incomes, including multiple six-figure months and even six-figure weeks, before moving on.
Gregg Scott said:
"We've been in this business a long time, and we've seen and done a lot already. But when we saw the opportunity Partner.Co presented, we were sold immediately. We are thrilled to join Partner.Co with our team and grow to even greater heights."
One of the key tenets of their business, and what has propelled them to such success, is their ability to lead with influence, impact and empowerment. They are passionate about living debt-free and have long advocated for teaching others to achieve the same financial independence.
They are also driven by a desire to lead by example and create a culture of love, respect, generosity and purpose in everything they do. They believe leadership is about inspiring others to achieve their full potential and are passionate about creating a culture that values people over profits.
"We firmly believe in the idea and practice of servant leadership. You can't be a Top Leader without your team, and it truly takes a team to take you to the top,"
Lenika Scott said.
What drew the Scotts to Partner.Co, they said, were the values and mission of the company combined with its wide array of health and wellness products. They were especially impressed with the Partner.Co Bill of Rights and the Partners Council, which gives field leadership a direct voice in company business.
As Gregg and Lenika transition into this new chapter of their careers with Partner.Co, their team will focus on the historically proven Tahitian Noni® ORIGINAL, a product widely known and respected in the industry.
They shared this exciting message in a personal video discussing the aligned values between them and Partner.Co leadership.
Gregg and Lenika want to offer hope and inspiration to other industry leaders looking to make a transition and build a team that thrives on positivity, collaboration and a shared vision. Their shared experience, passion and dedication make them a true asset to any organization, and they are excited to see what the future holds as they strive to create a brighter future with Partner Co.
About Partner.Co
Partner.Co brings together success-fueled entrepreneurs and wellness enthusiasts from all backgrounds and unique expertise to partner in health, wealth and self. Partner.Co's embracing of different cultures and beliefs fosters a true partnership where the company and the field protect each other and share a bond that ensures shared success. More information can be found at Partner.Co.
Recommended Distributors Partner.co (ARIIX, Noni, LIMU, Zennoa)