Lorde + Belle Is Growing Fast In The USA
June 25, 2023
By Team Business For Home
In a world where the beauty industry is a multi-billion dollar empire and filled with thousands of skincare and beauty products that often prioritize packaging, marketing, and branding over real results, it takes a visionary to create something truly special.
That visionary is Bill Xiang, the founder of two beauty brands, Lorde+Belle and RealHer.
It wasn't until he entered the beauty industry as a sales representative, selling cosmetics products to the US, that he found his true calling. Despite facing countless rejections, he worked tirelessly, often staying up until the early hours of the morning to make sales calls because of the time difference.
His hard work paid off as he sold over $30 million worth of products in his first two years of his career.
With his newfound success, Bill entered the pursuit of achievement phase, building and growing his company, hiring like-minded individuals, and setting higher goals for himself and the business.
However, after years of success in business, Bill realized that the most important thing in life is to pursue happiness. Watching his team grow and succeed, spending quality time with his family, and feeling grateful for the life he has created, happiness became his top priority.
Bill Xiang stated:
"With Lorde+Belle, I see a golden opportunity to pay forward the blessings I've received. My dream now is to empower countless others who, like me. So if you have a dream, don't give up on it. Protect it, nurture it, and never let anyone tell you that you can't achieve it. You never know what your small dream might turn into.

And my vision for this company is to build a HOME and community for a lot of dreamers like me, where we can celebrate success, enjoy personal growth, help others grow, and  prosper along the way together."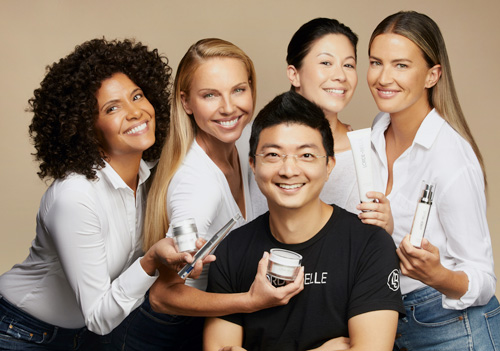 About LORDE+BELLE and REALHER brands
Bill Xiang: "As a beauty manufacturer for over 15 years, I came across situations where brands would sacrifice potency over cost saving over and over again. Even my wife was complaining to me that she couldn't find a skin care brand that she completely trusted and whose products actually worked.  One night after hearing my wife's complaint, I decided, "why not create a new brand of our own?" and really make a difference for all women.
That's how Lorde+Belle skincare line was born, pouring all my 15 years of resources, expertise and beauty manufacturing experience into this collection, we developed innovative products with the highest potency, making sure they produced maximum results.
We focused on a simple system of Cleanse, Repair and Hydrate, designing the formulas with clean, safe ingredients utilizing the EU standard as our baseline. Our clinicals speak for themselves and we're very proud that Lorde+Belle skincare line is becoming the favorite products for more and more people!, For more information please visit: