APLGO U.S. Welcomes Liliya Amaro as Marketing Manager
July 18, 2023
By Nicole Dunkley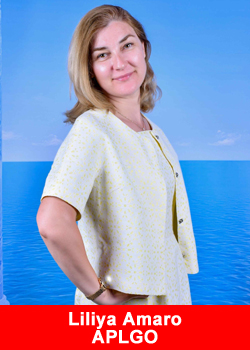 APLGO is pleased to announce that Liliya Amaro has joined the company as the new Marketing Manager, United States Region.
In her new role with APLGO, Liliya will lead marketing duties in the product updates, site localization, marketing, communications, and events to support Associates in the United States.
"I embrace this opportunity to become a part of APLGO international family, thus it is also an exciting challenge to develop one of the most important growing markets for the company,"
said Liliya.
Liliya brings both a passion for the direct sales industry and extensive industry experience to her role. She is a customer-focused team player and a results-oriented professional. 
Prior to joining APLGO, Liliya had marketing roles in companies such as Tupperware, Jeunesse Global, ACCO Brands, MGA Entertainment. She earned an MBA from World Technological  UNESCO University and holds additional credentials in business and marketing. Liliya enjoys spending time with her family. 
APLGO is a rapidly-growing international company offering all-natural products that enhance health and vitality. The mission of APLGO is to change people's lives for the better. We believe you deserve to be healthy and are committed to helping you achieve better health and vitality.
About APLGO
APLGO is an 11 year old company which began expansion in the US, LatAm and Philippines in the last two years. APLGO features a category creator product "Rapid DNA Lozenges" and a compensation plan that pays out 63% on the dollar.
Our experienced corporate team is dedicated to the success of our associates led owner Sergei Kulikov, a successful, international network marketing leader. Our head office consists of six departments and sixteen divisions, with 14 global warehouses and more to come. We consult with top-tier providers to ensure every aspect of the business is solid and scalable. For more information please visit us.aplgo.com
Recommended Distributors APLGO