GO Global Is Growing Fast
July 11, 2023
By Team Business For Home
GO Global has continued its groundbreaking journey into the month of June. Building on the success of May, GO Global has brought a series of exciting developments, including exclusive leadership development and training Zoom calls with renowned industry experts Cheri Tree and Brian Tracy.
June was also a month that featured the most anticipated G4 reward retreat for the Europe and Middle East Markets. With over 200 achievers the event featured ground breaking announcements & incentives at a 5 star resort in Antalya Turkey.
These types of events, with its first class courses, showcase GO Global's commitment to offering top-notch educational resources and tools to empower individuals for success.
In addition, GO Global laid out its 12 month road map that featured a G6 Leadership Retreat, a first class 5 star G7 ultra luxury incentive, and its plan for its official company launch event.
"At GO Global, we believe in the power of continuous learning and personal development. Through our exclusive Zoom calls with industry experts like Cheri Tree and Brian Tracy, we are equipping our members with the knowledge and skills they need to thrive in the direct selling industry."
– said CEO Nader Poordeljoo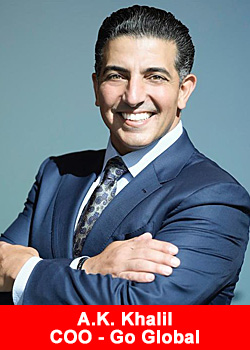 As GO Global continues to move ahead with its mission to develop future leaders, the company continues to provide access to high-quality education and break down barriers that may hinder individuals from reaching their full potential.
"At GO Global, we are dedicated to breaking down barriers and providing our members with cutting-edge tools and resources.

Through our exclusive Zoom calls and GO Learn platform, we are bridging the gap between our members and industry experts, providing them with personalized resources and skills to shape their future."
said COO A.K. Khalil
With each month, GO Global's commitment to innovation and empowering its members paves the way for a future filled with growth, success, and limitless possibilities. By organizing these insightful Zoom calls with esteemed industry experts, GO Global offers its members a unique opportunity to learn directly from the best in the field.
About GO Global
GO Global is an affiliate program with an educational platform that provides the best online education for personal and professional growth. The company aims to empower individuals to acquire the skills and knowledge they need to succeed in all areas of their life. GO Global is a one-stop access to the world's top-notch self-development courses expertly crafted by the best motivational coaches, and the top leaders of the respective sectors.
The mission of GO Global is to develop future leaders by providing access to high-quality education and breaking down barriers that may prevent individuals from achieving their full potential. Unleashing the potential within individuals and communities through personalized resources and support, we strive to arm them with the knowledge and tools necessary to craft their own destiny and make a positive impact on society and the world at large. To know more, visit us at goglobal.network
Recommended Distributors Go Global