Introducing Javed Khan: Director of Education for MyDailyChoice's Akashx
July 25, 2023
By Nicole Dunkley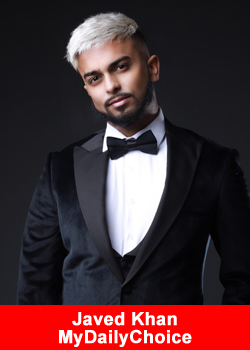 MyDailyChoice is delighted to welcome Javed Khan, an esteemed figure in the trading industry, as the new Director of Education for their educational platform, Akashx.
With an impressive track record and a steadfast commitment to success, Javed has consistently ranked among the global leaderboards of brokers, showcasing his exceptional skills and dedication.
His journey began at the tender age of 18, when he took his first steps into trading while juggling college studies and part-time work. Despite facing numerous challenges along the way, his unwavering conviction, passion, and consistency propelled him towards achieving remarkable success at such a young age.
During his early days, Khan worked tirelessly, taking up odd jobs to make ends meet while pursuing his trading ambitions. Through perseverance and resilience, he weathered setbacks and challenges with his head held high, never losing sight of his dream.
Armed with a clear vision, extensive knowledge, and an unyielding determination, Khan steadily climbed the ladder of success, eventually establishing himself as a prominent figure in the trading industry.
For Javed Khan, success was not only about personal achievement but also about making a positive impact on the lives of others. He aspired to work for a digital company that could provide him with a platform to grow as an individual while making a difference in the lives of traders seeking guidance and expertise.
His aspiration to help others aligns perfectly with MyDailyChoice's Akashx, a prominent educational platform dedicated to providing traders with the tools and solutions needed to master their Forex and Cryptocurrency portfolios. Akashx stands as a beacon of knowledge, offering a range of educational resources and support to empower traders to excel in their trading endeavors.
As Javed Khan takes on the role of Director of Education for Akashx, MyDailyChoice is confident that his expertise and passion will elevate the platform to new heights. His mission to impart knowledge and inspire success aligns perfectly with the company's vision of fostering growth and empowerment within their trading community.
About Akashx:
Akashx, the educational arm of MyDailyChoice, is a leading platform that provides traders with comprehensive tools and solutions to master the art of trading in Forex and Cryptocurrencies. With a commitment to excellence and a focus on empowering traders, Akashx offers top-notch educational resources and support to help traders achieve their financial goals.
With Javed Khan at the helm, Akashx is set to continue its mission of shaping successful traders by providing the knowledge and skills needed to thrive in the ever-evolving world of trading. MyDailyChoice proudly welcomes Javed Khan, confident that under his leadership, Akashx will continue to flourish as a guiding light for traders seeking success and growth in their trading journeys.
About MyDailyChoice
MyDailyChoice is a marketplace where you can discover new brands, shop for your favorite products, and empower your entrepreneurial spirit. Founded by two dynamic entrepreneurs, Josh & Jenna Zwagil, who had a desire to empower individuals by eliminating obstacles and fostering positive change. For more information, please visit www.mydailychoice.com
Recommended Distributors MyDailyChoice